Is there an email service that lets you use email without phone number? If you have the same question, you are at the right place.
Most email service providers, like Gmail and Yahoo Mail, require phone number verification to open an email account. Though verification is essential for security purposes, it may not be convenient for users. If you want more anonymity, you can try these email services that don't ask for a phone number.
Protonmail: Best Email Without Phone Number
Protonmail is a popular secure email services provider based in Switzerland. It offers encrypted email services to users worldwide, allowing you to open an email account without verifying your phone number. Besides, all Protonmail servers are in Switzerland, and neither the EU nor the US has jurisdiction there.
Furthermore, Protonmail has client-side encryption. What does that mean? If by chance, your email gets intercepted midway, no one can decrypt it. This isn't the case with popular providers like Gmail.
Mailnator
The next popular email service provider that doesn't require your phone number is Mailnator. The process of opening a Mailnator account is so hassle-free that you don't even have to create an account or authenticate it. You can receive a temporary email address instantly.
However, there are a few drawbacks of Mailnator you should know about. First, you can only receive emails from your account, not send them. Second, the emails are visible to the public, and there is no privacy. The primary purpose of Mailnator is email and SMS workflow testing, but you can use it as a temporary email service as well.
Mailnesia
Next up on our list is Mailnesia, an anonymous email service provider that lets you create disposable emails. The inboxes are available to the public, and there are no passwords. Hence, Mailnesia isn't a good email service if you plan to send and receive sensitive information.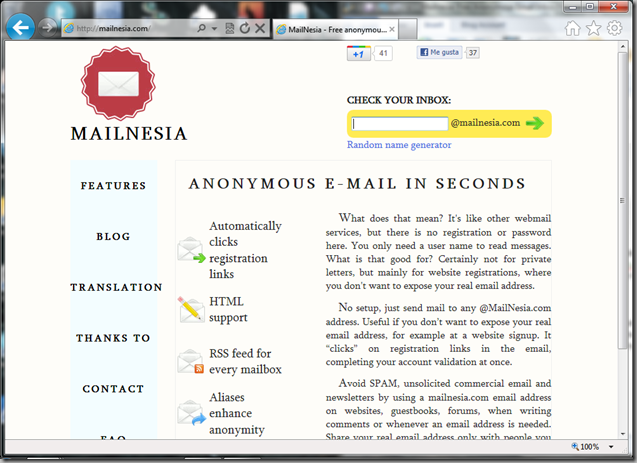 However, it's great for several other purposes. For example, if you need to register on a website to access something but you don't feel like sharing your email, you can use a Mailnesia email ID. This helps you share your email with scammers and receive promotional emails.
Inbox.lv
Inbox.lv is a Latvia-based free email service provider. It's the largest free email service in Latvia. You can create a free account and get a complete email address with a password and capabilities like file sharing, backup, and dating. And yes, it lets you register anonymously without your phone number.
Users get 20 GB free storage, which is 5 GB more than the 15 GB offered by Gmail. The Inbox.lv website also has a publication where you can read the latest local and international news.
GMX Mail
GMX, like Inbox.lv, is a news publication that offers free email service to its users. You can sign up and create an account for free without any phone number verification. However, you may sometimes need to provide an alternative email address while signing up, just in case you lose your password.
GMX is very generous with the storage space. Users get 65 GB of space. GMX is also available on Android and iOS. This email service is a good option if you need a secondary email for personal, less important tasks.
Tutanota
Don't let the funny name confuse you. Tutanota is one of the most popular secure email providers in the world. You can create an account in a few easy steps. All you need to do is provide your email address and set a password. And your account will be ready to use.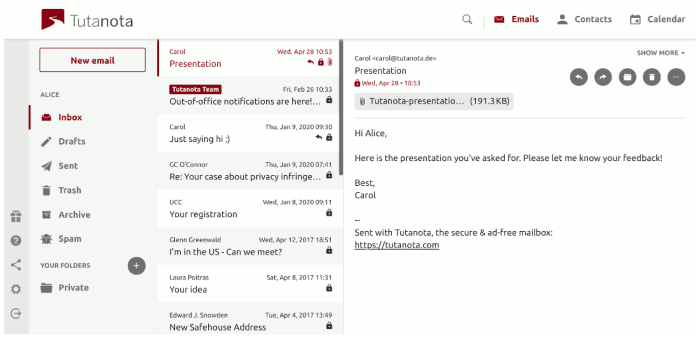 You get various benefits, such as encrypted email, open-source platform, and availability across devices. Tutanota has three plans, and the free plan offers 1 GB storage. The Premium plan is available for €1 per month, and it allows you to add users, aliases, and inbox rules. You can also get a Team plan for €4 per month to enjoy more powerful features.
Yandex Email
If you've not heard of Yandex before, it's a Russian company that provides various internet-related products. One of their leading offerings is Yandex email, which is a smart, secure, and personalized email service provider. You can sign up and create an email account without any phone number or authentication.
Users get up to 10 GB of free disk space powered by Yandex.Disk. There are several amazing features you get in Yandex Mail, such as email timers, customizable interface, inbox unification, anti-virus, and seamless password recovery.
Mail.com
Let's end this list with Mail.com, another internet service provider that lets you create free accounts without any phone number or authentication. Mail.com's interface is very similar to GMX.
Users get up to 65 GB of free email storage, along with advanced security and 200+ email domains. Mail.com also has a publication with news and blog posts.
Pros and Cons of Using Email without Phone Number
Using anonymous email services has both pros and cons. Let's discuss them now.
Pros of Email Without Phone Number
These services offer complete anonymity. You don't have to share your name, phone number, country of residence, and other details. These emails are excellent if you want to register on a website but don't feel like sharing your personal information.
Cons of Email Without Phone Number
There are two major drawbacks of such email services. One, you may not be able to recover your account if you lose your password. When you provide your phone number, email providers send a code on your number to revive your account.
Second, some anonymous email providers lack proper security. As discussed, they don't have encryption, and your emails are publicly available. Avoid sharing any sensitive information or files on such email addresses.
Wrap Up: Email Without Phone Number
If you're annoyed by all the providers that ask for your phone number to create an account, these anonymous email services will be suitable for you. You can create an account and start sending/receiving emails on the go. These email services are great for users who want some privacy.
So, which email service will you choose and why?
Vikram Deo