Do you want to know "How to Delete Spotify Account?", or "Are you tired of using Spotify and want to stop using it?", "Do you need to take a little break from Spotify to concentrate on your exams?" – If your answer to any of these questions is "Yes", then you are at the right place!
This blog post is dedicated to explaining the simple process using which you can delete your Spotify account. We are aware of the fact that just like many other platforms, Spotify also keeps gaining and losing users on a daily basis. Spotify not only gets new users but also loses some of its existing users with every passing day. The reason behind leaving the platform may vary from one user to another.
Irrespective of the reason, the process to delete an account on Spotify remains the same. You can follow the steps mentioned in this blog post to bid goodbye to Spotify. We have also explained in a nutshell how to reopen your account in case you decide to restart using Spotify.
What Exactly is Spotify? Why Is It So Popular?
Before we show you how to delete Spotify account, let us discuss what is Spotify. It is a digital audio streaming service provided by the company of the same name. It also allows users to listen to music and podcasts. Users can listen to millions of songs and podcasts from creators all over the world. Spotify also offers a video streaming service.
You can listen to the songs of your favorite rappers, pop stars, Sufi singers, Hollywood singers, and many other artists. Along with streaming audio on Spotify directly, you can also add songs and podcasts hosted on Spotify to slideshows created in programs like Microsoft PowerPoint and Google Slides.
Founded by Daniel Ek and Martin Lorentzon on 23 April 2006, Spotify is one of the largest music streaming service providers. This audio streaming platform has gained massive popularity in the recent few years. It has both free and paid plans. As of August 2022, Spotify has 188 million paying subscribers across 183 markets. The total number of users (including both non-subscribers and subscribers) is 433 million.
How to Delete Spotify Account: Use These Steps
Spotify can become a wonderful means of entertainment when you are vacationing on a remote island. There is nothing better than listening to the songs you love while resting in a peaceful place. But still some users might want to leave Spotify.
As we have mentioned earlier in this blog post, Spotify has both free and paid plans. Users who buy the subscription of the services provided by Spotify get access to some additional features as compared to those who use a free plan. Paying users, i.e., subscribers might want to stop using the paid plan because they no longer see value in it.
On the other hand, non-subscribers might want to leave Spotify because of switching to some other audio streaming platform. Well, whether you are a subscriber or a non-subscriber, you will learn how to delete Spotify account by reading the following paragraphs.
How to Delete Spotify Account: For Free Account Users
If you are someone who listens to music and podcasts on Spotify with the help of a free account (i.e., a free plan), you can close your account in a few simple steps. You just need to open the website of Spotify and login to your account. Now, click on the 'Support' option from the menu located on the top right corner of the page.
Next, go to the 'Account Settings'. Go to the 'Closing Your Account' section. Then, click on the 'Close Your Account'. This text is hyperlinked, which means a new page will open up. If you follow these steps without logging into your account, you will be asked to provide your login details at this stage. Spotify will ask for the confirmation before closing your account.
In order to understand how to delete Spotify account, you need to read the steps mentioned ahead. While giving confirmation, you need to review the details of your account and click on the 'Continue' button. A window will open up to show everything that will be removed from your account if you proceed with closing it.
You need to tick mark in the box located next to the text 'I Understand' at the end of the page. Then, you need to click on the 'Continue' button. The final confirmation is required from your side. Spotify will send an email to you. Open that email and click on the 'Close My Account' button. Once you delete your account, Spotify will send a confirmation email containing a link using which you can reactivate your account within the next seven days. The link will not work after seven days.
How to Delete Spotify Account: For Premium Users
If you are someone who is a premium user, i.e., who has bought a subscription to the streaming services of Spotify, you can close your account with the help of the steps mentioned here. First of all, you need to login to your account. Now, go to the top right corner and click on your name. Then, click on 'Account'. Next, click on 'Available Plans'.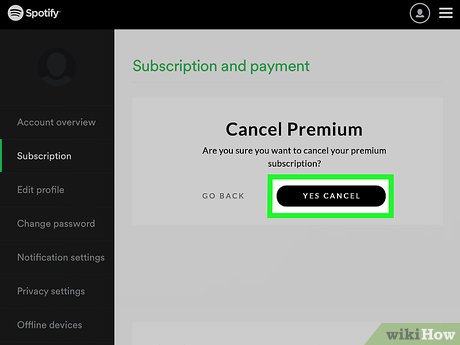 You need to scroll down to the 'Spotify Free' section. Click on the 'Cancel Premium' button. You will see the various features that you will lose by canceling the subscription. You need to click on the 'Continue to Cancel' button located below the list of features. You will see the exact date on which your premium plan will end.
Two buttons will be located below that information. You need to click on the 'Yes, Cancel' button. You will be given a survey by Spotify once you click on the button. You need to state the reason for canceling your subscription in the survey. If you want, you can complete the survey. Once you complete it, you need to click on the 'Submit' button. Your premium account will be closed.
But you can access the free account just like millions of other users. As you have already learned how to delete Spotify account with a free plan, you don't need to worry. You can delete the free account as well whenever you want.
After closing your account, whether it was free or premium, you might want to restart using Spotify. Users of free plans, i.e., non-subscribers get a period of 7 days to reactivate their account. If you don't reactive your account even during that period and wish to use Spotify after that, you don't need to panic at all. You can always create a new account on Spotify.
Conclusion
We hope that you would have found our blog post on how to delete Spotify account useful. Listening to music is considered therapy. You should listen to good music that can cheer you up. However, it's completely fine to take a break from anything or even switch the music streaming platforms.
Priya Bhagtani