Internet Download Manager (IDM) is a shareware download manager tool that allows you to schedule and manage downloads on your Windows PC. The software boosts download speeds, and it's an excellent alternative to the built-in download manager offered by various internet browsers. However, IDM has some limitations. If you are looking for IDM like software, you are at the right place.
We've handpicked some IDM alternatives you can use to speed up your downloads.
EagleGet
EagleGet is a download manager solution like IDM that allows you to schedule downloads and increase download speeds by up to six times. Additionally, it allows you to apply themes, set speed limits, and use browser integrations. And in some ways, EagleGet is better than IDM.
For instance, EagleGet doesn't require an antivirus program, whereas IDM does. It also lets you refresh your expired download addresses instead of starting them from the beginning. Above all, the software is lightweight and easy to use.
FDM
Free Download Manager or FDM is another great IDM alternative that lets you accelerate your downloading speed and improve your overall downloading experience. One of the best features of FDM is the seamless organization of downloads. Hence, you can download files of all sizes without any issues.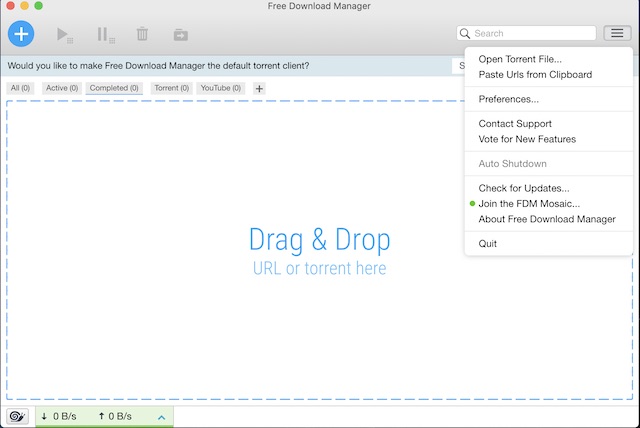 Furthermore, you can resume interrupted downloads from where you left them without restarting them. Another helpful feature of FDM is its ability to process media files of all formats. If you download a lot of videos and movies, FDM can be a suitable download manager for you.
JDownloader 2
JDownloader 2 is a popular free download manager with all the exciting features you see in IDM. It allows you to set bandwidth limitations, pause and resume downloads, customize the look, and more. It also has multilingual support.
The best thing about JDownloader 2 is the automatic captcha solution. If you come across a website that asks you to enter a captcha to download a file, JDownloader 2 fills the captcha automatically to start the download. Another great thing about this tool is that it's available on Windows, Mac, and Linux, unlike IDM that's available for Windows only.
Internet Download Accelerator: IDM Like Software
Internet Download Accelerator is another popular download manager with several features. You can use it to schedule downloads, pause and resume them, and increase the download speed by up to 5 times. This software has almost all features provided by IDM and is still completely free.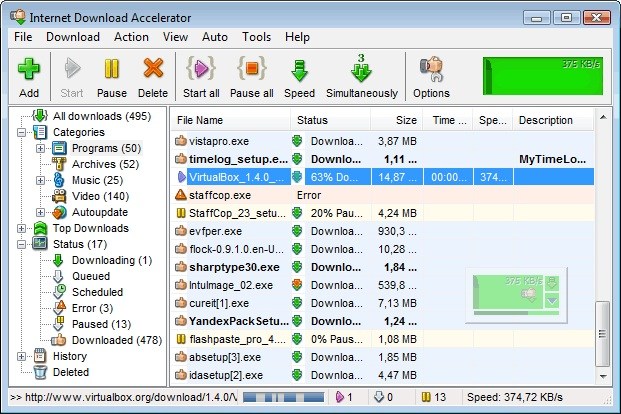 Internet Download Accelerator also has a Pro version that's ideal for commercial purposes. It costs $9.95 per user and lets you get rid of ads. The Pro version also has extra features like download speed control and site manager.
uGet Download Manager
uGet is a free and open-source solution that has all the basic features seen in download managers. If you're looking for a basic download manager that enables you to download files at a faster speed and schedule your downloads. You can find the source code of uGet Download Manager on SourceForge and review its security before using it.
FlashGet
If you need a download manager to skyrocket your download speeds, FlashGet is the perfect tool for you. It increases your download speeds by up to 10 times, compared to the 5x boost offered by IDM. FlashGet lets you create unlimited download categories, schedule downloads, pause and resume downloads, and more. Like IDM, FlashGet has a browser extension that lets you make FlashGet your default download manager.
FlashGet is one of the most similar tools to FlashGet, so it can be a great choice if you're looking for IDM like software.
Download Ninja: IDM Like Software
Download Ninja is another powerful download manager solution that lets you speed up your downloads. The best thing about this app is that you don't need to download the entire software. It's available as an extension, so you can just install the Chrome extension of Download Ninja to manage your downloads.
Download Ninja provides all the essential download management features. These include download pause and resume, download acceleration, speed limiting, multilingual support, and more. This app also has top-notch security features.
DownThemAll!
If you're looking for a fantastic download manager for Firefox, DownThemAll can be a perfect choice for you. Even though it's available as an add-on, it offers all the features you see in tools like IDM. These include organized downloading, one-click download, pause, and resume, and 4x download speed acceleration.
What's more, DownThemAll works on every platform that supports Firefox. Hence, you get more options, unlike IDM that's available on Windows only. The tool is free and is an excellent pick for Firefox users.
Aria2: IDM Like Software
Let's end this list with something different. If you prefer CLI, Aria2 can be an ideal choice for you. It's a command-line download utility. It lets you download files from a wide range of sources while using the maximum download bandwidth. Aria2 works with HTTP/HTTPS, FTP, SFTP, Metalink, and BitTorrent.
Additionally, Aria2 works as a BitTorrent client with robust features like selective downloads, encryption, local peer discovery, PEX, DHT, and UDP tracker. The download size is 4 MB only, making Aria2 a lightweight and powerful download manager every computer user should use. This solution is available on OS X, Windows, and Android.
Xtreme Download Manager
Xtreme Download Manager claims to increase download speed by up to 500%. Though it's tough to say if the tool accelerates download speeds to that extent, it certainly speeds up downloads. Hence, it's a fantastic alternative to IDM.
As the team behind the software claims, Xtreme Download Manager uses sophisticated segmentation algorithms to speed up downloads. Other features of Xtreme Download Manager are data compression, connection rescue, and downloading, pausing, and resuming.
Conclusion: IDM Like Software
IDM is a popular download manager for Windows used by millions of users. It offers various features that allow you to better organize and manage your downloads. If you are looking for solutions like IDM, the tools mentioned above can be a suitable choice. All the tools share similarities with IDM and also offer unique features, so try them out and find a download manager as per your needs.
Vikram Deo