Windows is the most widely used computer operating system in the world. It's powerful and feature-rich, and Microsoft rolls out consistent updates to add new features. However, it can run into some issues, and one common issue erupting among users is the PFN list corrupt Windows 10.
If you're facing the same problem, this guide is for you. Today, we'll delve into the possible causes of the PFN list corruption error, along with some troubleshooting tips to fix them.
PFN List Corrupt Windows 10: An Overview
In this error, your system freezes, and a blue screen saying "PFN List Corrupt" is displayed. Here, PFN refers to Page Frame Number. This error is due to data corruption in PFN. When the system identifies an error, it locks the system to protect it from further corruption and complications.
Now, what causes PFN corruption? There are several causes, and they could be both software-related and hardware-related. Unfortunately, it's tricky to find what's causing the error. So, instead of looking for the cause, you can perform a series of troubleshooting steps.
Steps to Fix PFN List Corrupt Windows 10
Having understood what the error is and its potential causes, let's delve into some troubleshooting tips to fix the issue. We recommend following these tips in the exact same order as mentioned to increase their effectiveness.
Uninstall Conflicting Software
A typical Windows 10 system has dozens of programs, and any one of them can cause an issue. Though it's difficult to find the problematic software, making an educated guess is possible.
If the problem occurred immediately or sometime after installing a new program, it could be the troublemaker. Uninstall the program and see if the issue persists. Other apps can also cause an issue, especially third-party or cracked apps. If you have such apps on your device, get rid of them and see if the problem is fixed.
Check for Problematic Drivers
Issues with drivers can also cause the PFN corrupt list issue. Two problems can occur with drivers. One, they could be obsolete, hence corrupting the PFN. Two, they might not be properly connected to your PC. Compatibility issues are another reason.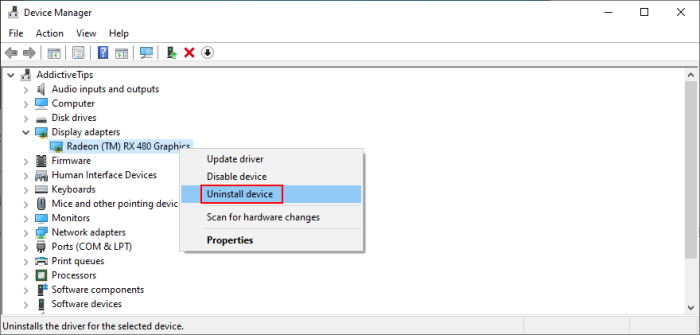 Two overcome driver-related issues, go to the Device Manager by right-clicking the Windows button and then Device Manager. A list of all system drivers will appear. Look for drivers with a yellow exclamation point. If you find any such drivers, uninstall them by right-clicking on them and clicking on "Uninstall Device."
Next, go to the Action menu and click on "Scan for hardware changes." See if any options appear. Last, check for driver updates and update the drivers if an update is available.
Repair the Windows Registry to Fix PFN List Corrupt Windows 10
A corrupted Windows registry installed on your PC may also cause PFN corruption. The early signs of this problem are an unexplained slowing down of your system. The problem can aggravate over time and ultimately result in the PFN corrupt screen issue.
You can overcome this issue by scanning and removing invalid registries. Numerous free tools are available that enable you to check and repair a corrupted Windows registry. You can also perform this step manually by using the automatic repair functionality on your PC.
Run the BSOD Troubleshooter
BSOD stands for Blue Screen of Death. It's a serious Windows error that occurs in case of a fatal issue in the system. PFN list corruption is a type of BSOD error. Therefore, running the BDOS troubleshooter may resolve the problem. All Windows 10 and 11 PCs come with a BSOD troubleshooter.
To run the troubleshooter, go to Settings on your PC and head to the Update & Security section. Scroll down to Troubleshoot. If your computer has a BSOD issue, the Blue Screen error will appear in the "Find and fix other problems" section, along with an option to "Run the troubleshooter."
The system will run the troubleshooter and eliminate the identified issues.
Run DISM and SFC Scan
DISM stands for Deployment Image Servicing and Management. It's a tool that enables network admins to redeploy the system image. Doing so may help solve the PFN list corruption issue. To run DISM, open the command prompt as an administrator and execute the following command:
DISM /Online /Cleanup-Image /RestoreHealth
Once the scanning is complete, restart your system. Alternatively, you can perform this step with Windows Installation Media.
Another effective way to fix the PFN list corruption problem is by running an SFC scan. In this step, your system finds and fixes corrupted files on your system that may cause the issue. To perform this step, open the command prompt as an admin and execute the following command:
sfc/scannow
Restart your system after the scan is complete.
Eliminate Virus or Malware
The next thing you should do is check for malware or virus on your PC. Such unwanted programs in your system can mess up with the PFN and cause the blue screen issue. Therefore, identifying and eliminating these elements is essential.
You can use any reliable antivirus program to identify and eliminate viruses and malware. If you use Windows Antivirus, run a full scan or Microsoft Offline Scan to check for infectious programs. You can also use other antivirus solutions like McAfee.
Check for RAM Corruption
The final step is to check for memory (RAM) corruption. To run the scan, open the Run box by pressing Win + R. Type mdsched.exe in the dialog box and click on OK. The Windows Memory Diagnostic box will open. Click on the first option, "Restart now and check for problems."
A memory diagnostics tool will appear. Let it do its work, which might take a few minutes. Your system will restart automatically.
Wrap Up: PFN List Corrupt Windows 10
Getting a blue screen with a PFN List Corrupt error is a serious Windows issue that could interfere with your system's functioning. It's essential to eliminate the underlying cause of the problem to avoid frequent blue screens. Follow the steps discussed above in the same order to fix the issue. If nothing works, reset your PC and reinstall Windows.
Vikram Deo