If you weren't reading this blog post now, there are huge chances that you might be watching some video on YouTube. As per the latest data, YouTube has more than 122 million daily active users. More than 1 billion hours of video are watched every day across the globe. Around 5 billion videos are watched every day on this social media platform. More than 2 billion users watch videos on YouTube every month.
Along with users who consume content on YouTube, the creators who develop content and showcase the same on YouTube have also contributed to the success of this platform. As of August 2022, YouTube has more than 50 million active content creators. The number of YouTube channels that exist today is 51 million. YouTube creators upload 500 hours of video every minute.
We have explained how to delete a YouTube channel in this blog post. But before that, let's understand why people start a channel on this video-sharing platform. People from all over the world create a YouTube channel. The creators who make and share content on YouTube are known as 'YouTubers'.
These creators join the platform as it rewards them handsomely. YouTubers earn money in various ways. They earn through views on their channels, ad revenues, brand endorsements, channel memberships, and so on. According to a report, YouTube paid around $300 million to creators in 2021.
You might be wondering, "If YouTubers make so much money, why would they want to delete their channels?". Well, there can be a number of reasons why a YouTube content creator would want to delete their channel. A few of these reasons include the desire to focus on other opportunities, creating another channel with a new concept, and so on. Many YouTubers leave the platform after getting disappointed with the outcome.
How to Delete a YouTube Channel: Why Creators Delete Their Channels?
A lot of students studying in schools and colleges join YouTube as creators because this platform allows them to show their creativity and get tremendous exposure. They take a break from making videos during their examinations. Some creators even take a break to look for fresh ideas for new videos. In such cases, it's not necessary to permanently delete your YouTube channel.
But in the case of YouTubers who have decided to quit the platform for good, deleting the channel is the only option. The presence of their channel might make a creator get weak and turn back to YouTube only to face disappointment again. When you have made up your mind to say 'goodbye' to this platform, it's in your best interest to delete your channel once and for all. Similarly, those who want to start a new channel based on a different concept should also delete their YouTube channels.
If you don't know how to do that, worry not, as we have shown how to delete a YouTube channel in a simple way. You need to follow the steps mentioned here to remove your channel from the social media platform in a few minutes.
How to Delete a YouTube Channel: Read These Simple Steps
It's worth mentioning here that you need to use a computer to execute these steps. You cannot delete your channel using a mobile phone. You should take note of the fact that you will not be able to recover any of the content shared by you once you have deleted your channel.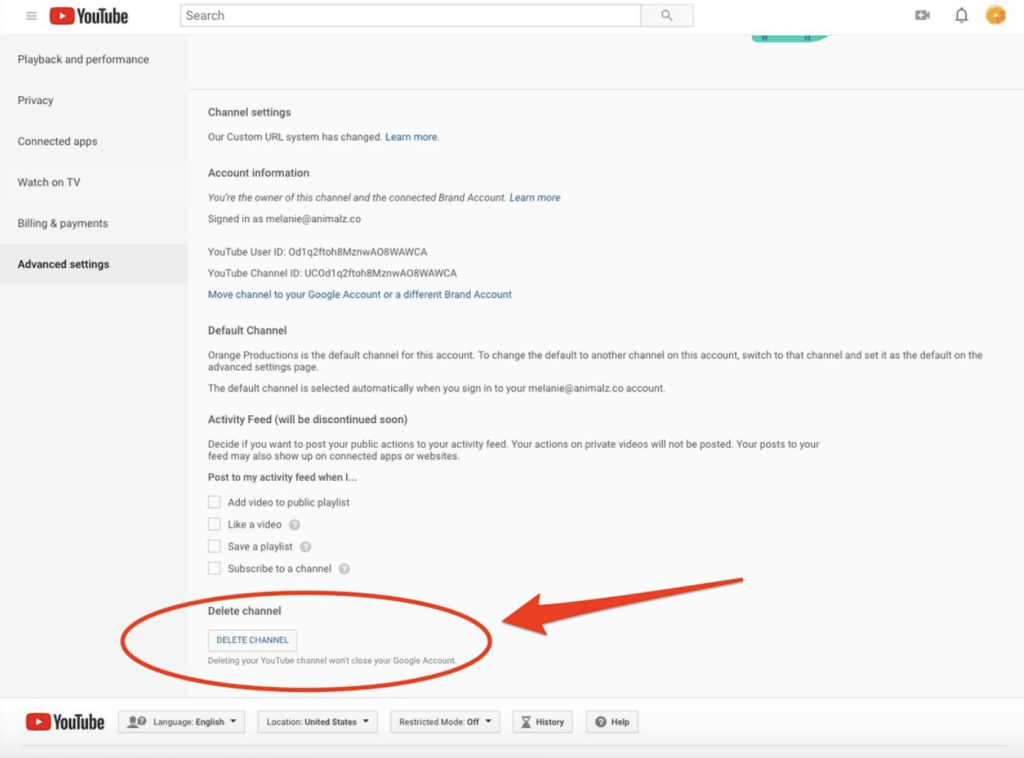 In order to delete your YouTube channel, you first need to sign into YouTube studio. Now, go to the left sidebar and click the 'Settings' icon. Click on 'Channel' and then go to the 'Advanced Settings'. Now, go to the bottom of the page and click on 'Remove YouTube Content'. Here, you may be asked to enter your sign-in credentials. Next, click on 'I Want to Permanently Delete My Content'.
You will see two boxes that describe what will be deleted should you proceed ahead. You need to check those two boxes to give your confirmation to delete the channel. Now, click on 'Delete My Content'. Once you delete your YouTube channel, you will not be able to see the name and URL of your channel in YouTube analytics.
Find Out How to Hide Your YouTube Channel
Along with learning how to delete a YouTube channel, you can also learn how to hide your YouTube channel. Hiding the channel is the right choice for those creators who don't want to leave YouTube permanently but want to hide it.
When you hide your YouTube channel, the details related to your channel become private. The name of your channel, videos uploaded on the channel, likes, subscribers, and subscriptions will become private. The comments you would have received on your videos and the replies you would have given to those comments will be permanently deleted.
In order to hide your YouTube channel, you need to follow the same process required for deleting the channel, with one exception. Instead of clicking on 'I Want to Permanently Delete my Content', you need to click on 'Hide My Channel'. The best part about hiding a YouTube channel is that you can re-enable it whenever you want.
The fact that you are reading this blog post on how to delete a YouTube channel proves that social media affects your life. Social media has become an integral part of the lives of people today. Various social media platforms like YouTube, Instagram, Twitter, and Facebook allow people to perform a wide range of activities. Users can
People become social media celebrities and influencers by sharing their expertise. A lot of professionals from different fields, such as music, acting, makeup, cooking, traveling, and so on, begin their journey by displaying their talent and skills on social media. As a social media platform, YouTube has proven to be helpful for many people.
Final Thoughts
We hope that you would have found this piece on how to delete a YouTube channel useful. After running a YouTube channel, you should not feel reluctant to delete it if you feel that it's not your cup of tea.
Priya Bhagtani