Top 5 Reasons Why the Organic Traffic Is Really Beneficial for Businesses
stopie
January 26, 2020
0 COMMENTS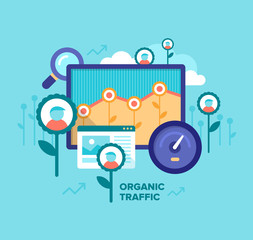 Many companies invest heavily in SEO, with the knowledge that the benefits of growing organic traffic are huge. With internet users hitting 4.39 billion, SEO potential still is untapped.
The obsession for ranking in search results is on the upward trend. Companies are now hiring organic SEO consultants to help them formulate and implement effective SEO strategies. If you have not invested in SEO, you are moving in the wrong direction, and here are the reasons.
1. Organic Traffic Offers Credibility
Do you trust search results that are not in page one of search engines? Businesses that rank highly are trusted, and customers will most likely buy from them. Customers and web users relate to sites that rank high with quality content. Customers are aware of what they want and are less likely to waste time searching for results in subsequent pages.
SEO is powerful. You can rule the market once you rank high in search engines. You can also leverage your market position for a long time.
But how do you improve your rankings?
Search engine ranking is not achievable in ago, it is a process, and takes between six months to one year, depending on your SEO skills. You need first to do an audit of your SEO to determine functional and nonfunctional parts of your web-pages. By doing so, you will be able to know where to improve.
It is essential you also check your linking strategy; your links should add value, i.e., they should link to authority sites that are informative to your users. You should also not just place links in your web pages. The links should be in the form of keyword sentences or phrases.
A significant part of SEO is creating quality, informative and engaging content. A user visiting your web page should want to view more of your content and not get bored within a few minutes. You should also avoid keyword stuffing, and try to maximize on performing keywords.
2. Organic Traffic Gives Competitive Advantage
With competition being at the highest level, ranking in search engines is a leg up against the competitors. The spotlight that SEO affords a business is indispensable. It puts a company right in front of prospective customers. Website owners and content creators will want to link to your website, this, in turn, brings in more leads.
Ranking at the top should not be the end of your SEO strategy; it is better to continue improving your techniques and push competitors down the search engines. It is also important to note; competitors may be devising strategies of subduing your tactics.
To effectively use SEO and beat your competitors, undertake an analysis of your competitor strategies,  use of SEO, best selling products, keyword use, linking plan, and their targeted customers.
Maximizing on the competitor information can help in maintaining your market while improvising to attract customers from your competitors.
You should also be abreast with SEO news and changing technology in SEO.SEO is dynamic, and any deviation in focus can result in delays in adaptation to new tactic and loss in market share.
3. Organic Traffic Is Important for Branding
60 % of consumers indicate they can only buy from a known brand. If you are successful with organic traffic, you will attract more visitors to your website. Consumers will be attached to you when they continuously come across your product in search results.
Your brand will grow with increasing visitors to your site. In the event, consumers identify your business as a trustworthy brand; your chances of getting better rankings will improve drastically.
Top businesses commonly appear on the first page of SERP's, which makes them even more dominant.
To grow as a brand, you have to maximize SEO use, create a blogging section and consistently create content. Ample and informative content will help build your name as an expert in your field. There are companies now that offer help in SEO branding. If you are into home services, Scorpion offers SEO technology for home services businesses that helps improve and rank better on search pages, thus creating strong branding.
Also, consider using branded keywords. Branded keywords are more target minded and are likely to bring better results compared to typical keywords.
4. Organic Traffic Is Vital for Higher ROI and Increased Sales
SEO campaigns are less costly than PPC management services. Their returns are higher, meaning it is possible to recoup costs incurred and accrue profits through Organic marketing.
The goal of SEO is to attract visitors and convert them into consumers. But, how does it boost ROI or sales?
Better SEO results in more visitors into a website; in turn, you can choose to reduce your expenditure on paid advertisement. You can choose to remain with paid adverts, which are likely to perform better as a result of the top ranking and popularity of your business.
Engaging content is expected to keep customers in your web-pages and increase returning visitors. The possibility of reducing bounce rates and getting more sales is high when SEO is optimized.
 SEO also encompasses an elaborate FAQ's section and quick response to customer issues. It leads to easy resolving of new client's concerns and customized blogs posts are created for in-depth information on arising issues. The result is customers feel valued and referrals increase.
Organic traffic has long term returns compared to paid advertising and social media. While paid ads go down after exhaustion of budget, and social media posts, dwindle from viewers vicinity with time, blogs posts and SEO content remains relevant for a very long time. There is no cost of recreating content; all you need to do is update the content.
5. Organic Search Builds Engaged and More Qualified Prospects
Prospects arising from organic search tend to be more engaging and have better conversion rates. A massive number of web-visitors is exciting, but what matters is the output of the visitors. Do you get the maximum output from your visitors? Do customers get what they want after they visit your website?
Optimizing your website for better conversion rates is the most crucial component of SEO.
For example, you web-pages have to be mobile friendly. Today, the number of people accessing the internet via mobile phones is high.
The navigation tabs of your site should be easy to use, while your website must load faster. Users are likely to move to other better websites if you fail to address loading speeds.
Another essential way of building qualified traffic is by using keywords that are solution oriented. The goal of your visitors is to get their problems solved faster.
Final Thoughts
Use of analytics will be vital to establish which pages attracted them to your page and which products in your site they are buying more. Once you identify the content which is inviting visitors to your website, you can use the information to improve and build better content.
Combining SEO with social marketing is another ingenious way of ranking in SERP's. Adding your website links to your social media profiles helps take advantage of social site SEO. You can also test the viability of your posts through sharing them in social media sites. Viable blog posts receive higher shares, likes, and comments.
Organic traffic is highly useful to businesses; adoption of the SEO strategy and consistent research on changing trends is what is essential. Organic traffic marketing may be tedious and time-consuming, but its benefits outweigh the cons.
stopie