People pay special attention to every aspect of their journey when they travel via air because of their excitement. One of these aspects is the outfit they wear to the airport. It's worth mentioning here that along with being joyful, the air traveling experience is also hassling and a bit inconvenient. Travelers have to go through a lot of formalities before boarding a flight. They have to spend a considerable amount of time at the airport.
Hence, the decision about the outfit to airport becomes even more important. You should wear an outfit that makes you feel comfortable and beautiful at the same time. You must have seen the craze of paparazzi when it comes to spotting celebrities at airports. Pictures and videos of celebrities spotted at an airport are shared by media outlets on a regular basis. The central topic of discussion in news articles covering the news regarding the air journey carried out by any celebrity is the outfit worn by them.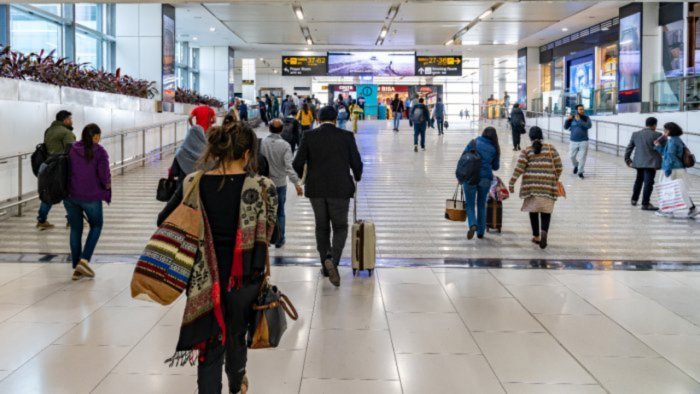 When ordinary people read or watch such news pieces, they become even more conscious of what they should wear when they have to visit an airport. It's quite common to have the desire to look your best while traveling on an airplane. You must choose your dress properly. In this blog post, we have shown different outfits men and women can wear when they have to get to an airport.
Outfit to Airport: 5 Trendy Airport Outfits for Women
Women remain confused about what to wear despite having a large number of dresses. Most women traveling by air are accompanied by their younger siblings or children. In such a way, the outfit they wear should be chosen carefully. Their clothes should allow them to take care of others. We have shared 5 great airport outfit ideas women can follow.
Jeans, T-Shirt, and a Metallic Jacket
A pair of jeans is an ideal choice for various occasions ranging from casual hangouts and romantic dates to get-togethers and office parties. It is also suitable for wearing to an airport. You need to wear jeans with a t-shirt and a metallic jacket. You can choose between a plain and a printed t-shirt depending on the type of look you want to achieve. Wearing a metallic jacket on top of your t-shirt will increase your overall beauty appeal.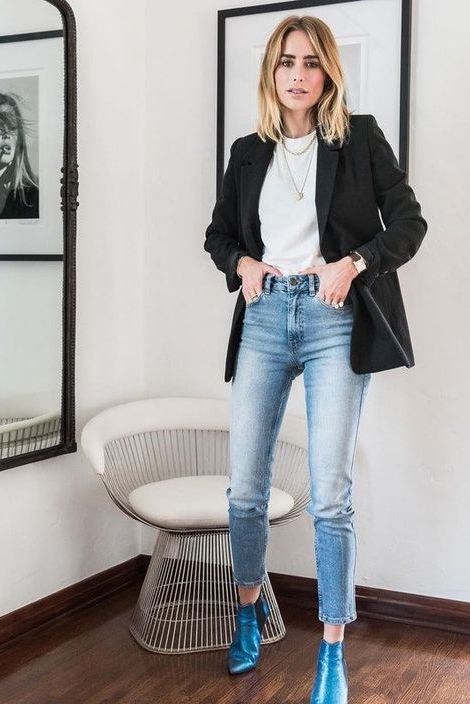 Ripped Jeans, Tie-Dye T-Shirt, and a Long Jacket
If you want to go for a cool and hippy look, you can wear a pair of ripped jeans. Although many people believe that ripped jeans are no longer in fashion, it's not true. They are evergreen, and so, you can wear them on multiple occasions. To complete your outfit, you can choose a lovely tie-dye t-shirt. Just like ripped jeans, tie-dye t-shirts are also an unconventional type of clothing. A long jacket can make you look amazing. It will also protect you from the cold if you are traveling during winter.
White Sleeveless Crop Top, Jeans, and Crop Jacket
This outfit to airport serves a useful purpose. Every color has an effect on your mind. The color white makes you feel calm and peaceful. People often feel stressed and panic at an airport. They want to complete the check-in process and other formalities before the boarding time. You can avoid feeling stressed by not just reaching the airport in time but also wearing a white outfit. A white sleeveless crop top, a white crop jacket, and a white pair of jeans can make you look dazzling.
A Denim-on-Denim Look
Denims can never go out of fashion. You must have worn denims at parties, fun events, schools, and vacations. But have you ever tried wearing denims to an airport? An all-denim look or denim-on-denim outfit can make you look sporty and gutsy. Take a denim top or t-shirt and wear it with a pair of denim jeans. Complete your look with a denim jacket or vest.
An All-Black Outfit
Just like an all-white outfit, an all-black outfit is also trendy. The black color offers you numerous options in terms of the types of clothing. You can wear a black shirt, t-shirt, top, or crop top. You can choose between a pair of black jeans and a pair of black trousers. A black jacket, vest, winter coat, faux fur teddy jacket, or hoodie will go with your black clothes.
Outfit to Airport: 5 Trendy Airport Outfits for Men
Men also travel by plane, right? So, we cannot complete this blog post without sharing some airport outfit ideas for men. A usual perception regarding men is that they don't put much thought into the way they dress and accessorize. But when it comes to getting ready for boarding a flight, men become equally nervous as women. The outfit ideas mentioned below will definitely help you out.
A Plain Black T-Shirt and Denim Jeans
There is no man on this planet who does not like to wear a black t-shirt or a pair of denim jeans. Both these clothes are simple yet elegant. Men who don't want to invest much time into choosing the outfit or don't know what kind of look they want to go for can choose this outfit. Wear a simple black t-shirt and a pair of denim jeans. You can wear black or brown boots and a smartwatch to complete your look.
White Shirt, Black Jeans, and Multi-Colored Jacket
Almost every guy has a white shirt and a pair of black jeans in their wardrobe. If you want to look fashionable and feel comfortable at the same time, this is the right outfit to airport for you. In order to make your outfit more appealing, you can wear a multi-colored jacket on top of your shirt.
Off-White Round Neck T-Shirt and Ripped Jeans
If you want to go for a casual look, you can choose this outfit. Every man has one or more pairs of ripped jeans. You need to wear a pair of ripped jeans with an off-white-colored t-shirt with a round neck. You can complete your look with cowboy boots, a sporty watch, and a sleek ring. If you are traveling to attend a business meeting, make sure that your business associates or clients don't get an unfavorable impression of yours because of your outfit.
Multi-Colored T-Shirt, Black Shorts, and White Sneakers
This outfit has an interesting mix of colors. If you are trying to for a relaxing and eye-catching look, this outfit is just for you. Most men usually don't mind wearing shorts at an airport. If you are one of them, just pick a pair of black shorts from your closet. Wear a nice multi-colored t-shirt with your shorts. Sneakers in white color can balance the dark colors in your outfit.
V-Neck T-Shirt, Chinos, and Casual Shoes
A V-neck t-shirt with a pair of chinos and casual shoes can make you professional and humble at the same time. You can wear a t-shirt with a V-neck in the color of your choice. The color of your pair of chinos should be according to the color of your t-shirt. For example, if you are wearing a maroon t-shirt, choose a pair of chinos that are in khaki, beige, or light blue color. Similarly, choose casual shoes whose color suits your outfit.
Selecting an outfit to airport can be a hassle and time-consuming activity. You can reduce the time and hassle involved in it by thinking smartly. You need to be a bit creative. If you have a gut feeling that you can pull off a particular outfit, wear it without hesitation or worrying about the latest trends.
Conclusion
We hope that the ideas shown in this blog post become helpful to you in getting ready for the airport quickly and smoothly.
Priya Bhagtani