Maldives Resorts On The Water To Experience The Most Exotic Vacation!
Vikram Deo
March 14, 2022
0 COMMENTS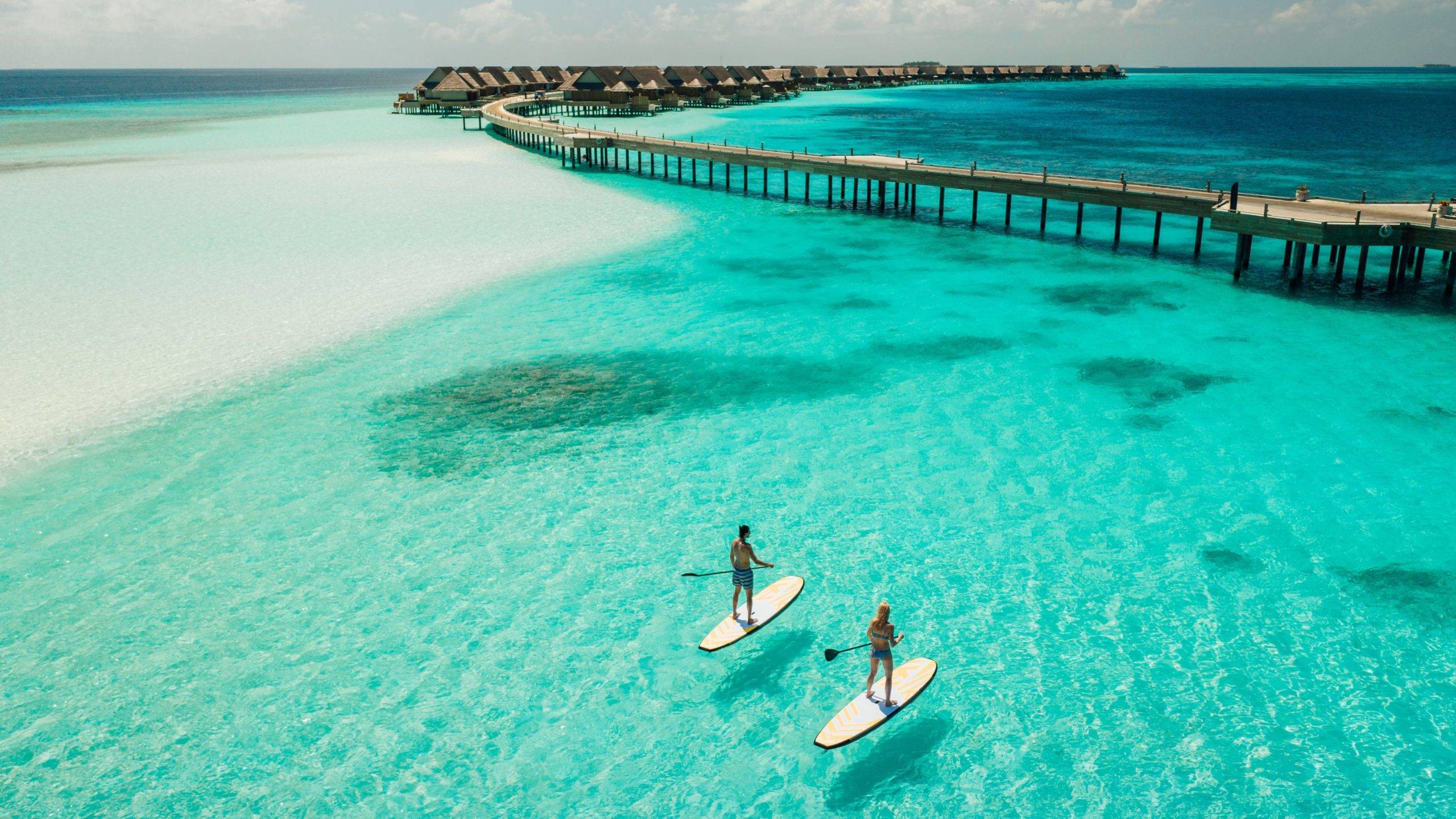 Maldives resorts on the water: What's the first thing that comes to your mind when discussing the Maldives? Isn't it the exotic beaches? The serene aquatic blue beaches with loads of fun water activities to do! But for that, you would have to stay in some great resorts, wouldn't it?
So, if you think of visiting the Maldives and are not sure where you should stay, read on. Below I've come up with some exotic Maldives resorts on the water that are surely going to give you a spectacular stay that you are going to remember all your life. Are you ready? Read on!
3 Best Maldives Resorts On The Water
The Maldives has always been one of the favorite destinations people want to visit. People don't only choose this place for the wonderful scenic beauty but also for the fun activities that they can do there! So, if you too are one of them who wants to visit this exotic island and wish to plan your stay in a luxurious resort, read on. We have carefully picked the best ones to plan your stay!
1.     Sun Siyam Olhuveli, Maldives
Sun Siyam Olhuveli is located on the Olhuveli island, and this resort is surely going to give you the experience to remember all your life. When you reach the Velana International Airport, you take a 45-minute boat ride to this exclusive resort.
On arriving, you will be welcomed by the staff and then given a welcome drink, which makes any tired guest rejuvenated. And finally, as you reach your room, you will be seeing a breathtaking view which is going to take away any of the jet lag that you have.
Sun Siyam Olhuveli in the Maldives offers several room types that guests can choose from. Even the lowest-priced rooms give you the view of an exotic beachfront.
The packages include breakfast, dinner, and lunch. Also, the resort offers a variety of spa experiences that you can enjoy! So, if you are thinking of visiting the Maldives anytime soon, this is our top pick for the day.
2.     Taj Exotica Resort & Spa Maldives
When you are at the Taj Exotica Resort & Spa Maldives, you are sure not to have a dull time at all! The numerous fun activities this resort can offer will turn your head around and will surely make it pleasing for you and your partner.
It takes about 20 minutes from the Male International airport. The wonderful marine life that you will spend on your trip to Taj Exotica Resort & Spa Maldives is going to be remembered for a lifetime. They offer spa services, with coral seeing, snorkeling, and many other water sports.
Apart from that, you can avail yourself of a fine dining experience too! Taj Exotica also homes a fantastic bar where you can go and taste some fun cocktails that will spice up your visit.
The resort has some wonderful delicacies for the guest to try, and if you happen to be a Teppanyaki cuisine lover, you will surely love the experience this resort is going to give you. In fact, if you want a private butler service, Taj Exotica can offer you that as well.
So, in the list of best Maldives Resorts on the waters, Taj Exotica Resort & Spa Maldives is our second pick!
But wait, before you settle for any of the ones above, check out the full list.
3. Anantara Kihavah Maldives 
If you are looking for a Maldives resort on the water for all ages, then this one is the one that I would certainly suggest to you. The resort is located on Baa Atoll and offers its guests some great experiences.
You can choose the type of room you want, but we would want to tell you that the two-bedroom rooms present in this resort are excellent. You can go along with your family and have a great time and not worry about the kids getting bored.
In fact, the best part about visiting this resort is that you will never feel away from home, as they speak in Hindi as well. People who are from India, love this resort for the warm hospitality the staff gives to their guests.
Also, if you would love to have an exquisite dining experience, Anantara is sure to give you that too!
Quick Tips to Note While Traveling To Maldives
As we have given you some of the top picks, here are some quick tips that you can keep note of while traveling to the Maldives; let's check out what we have in store for you.
1)     Carry Comfortable Beachwear
Some people look at pictures, admire them and finally get them! But finally, when they wear them, they aren't comfortable in them. So, ideally, we would suggest that you always wear comfortable beach wear when traveling to Maldives.
2)     Check with the Resorts About their amenities
Since you will be staying on an island, it's extremely advisable and important that you choose the resort that offers you all the facilities. The mode of transportation is only through boats and jets. So, make sure you speak to authorities about the transfers well.
3)     Speak to your doctor about allergies
We often overlook this section, but when you are traveling to a place that has beaches, and you are going to spend most of your time in the water, ensure that you are taking precautions. Also, being sure you are allergic or not is very important. Ideally, have a word with your doctor to be sure you are safe in the water.
Final Thoughts
As we come to the end of our blog today, we hope you know exactly what our Maldives resorts on the water best picks are. So, go ahead and check out the websites to grab exciting deals. Do let me know in the comment section below, which resort you liked the best!
Vikram Deo