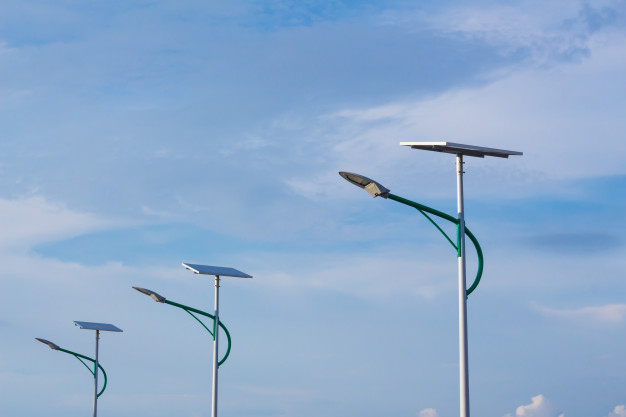 There are many reasons for people to shift to solar energy, but choosing the right products is still a struggle. Solar has become the hot new industry and many manufacturers have launched products to profit off the trend. To make sure you get your money's worth, you must know what to look for when buying. The following are some features that most definitely should be in a good solar street light. Make sure your light company is aware of this technology and can assist you in making the most of it.
Adjustability
What determines a solar panel's efficiency is how well-exposed it is to the rays of sunlight. Great solar street lights have an adjustable panel that can rotate 360 degrees. The solar panels, or solar cells in some cases, are attached to the rotatable panel, this allows the user to move them according to the movement of the sun to ensure that they receive maximum sunlight throughout the day. 
Standalone Design
In order for a solar street light to actually convert sunlight into electricity, it requires a lot more than just the solar panel. These requirements include a lithium battery, LED lights, and a controller. A decent solar street light will have a sleek design that encapsulates all these components. For example, the HeiSolar AIO solar street lights have an elegant design that houses all the parts and has no messy wiring. It is a standalone system that can be easily installed anywhere. 
Motion Sensors 
Just because solar energy is cheaper than other alternatives, does not mean it is okay to be wasteful about it. In fact, there is only a limited amount of power that the battery of solar street lights can hold and it must be used efficiently. Motion sensors are a very intelligent way to conserve power. They detect if a human is nearby, if there is, they turn the brightness of the light to 100%. As soon as the person moves away, they dim the light. Getting solar street lights that have motion sensors will save you a lot of costs and give you a longer battery life. 
Mono-Crystalline Silicon Solar Panel
The type of solar panel has a great bearing on the performance of the solar street light. You should opt for mono-crystalline silicon solar panels as these have high efficiency as compared to other options available in the market. The transfer efficiency for these panels in 19.6% which means quicker absorption of sunlight. Moreover, these provide great return-on-investment as they have a lifespan of more than 25 years.
Various Light Modes
When purchasing some solar street lights, keep in mind that the more customizable, the better. Every neighborhood, street, or business has its own lighting needs, so there is no point in buying some lights that don't cater to those particular needs. Good solar street lights allow you to choose between many modes, the modes can be brightness-based, time-based, or motion-based. This means that you can set up your lights to have different levels of brightness throughout the night, or based on whether or not someone is around the lights. Normally, lights that allow such modes come with a smart remote control that allows you to switch between the modes. 
Different Lenses
Make sure the manufacturer offers many options when it comes to lenses. The quality of illumination depends on the lenses. Spreadlight lenses are designed to perfectly distribute the light rays to provide uniform illumination. Moreover, different types of lenses are suitable for different situations, for example, residential areas require general lighting while places like theme parks and malls need wider lighting. Before you make your purchase, make sure you are being offered these choices and then carefully select what is best for your situation.
Power Regulation
Innovative solar street light manufacturers deploy many methods to ensure lesser power consumption and proper utilization of power. One such strategy is the use of power regulation that is powered by Maximum Power Point Tracking(MPPT). Without going into the technical details of MPPT, it is a technology that sits inside your charging controller and smartly adjusts the power levels to match the changing weather and sunlight conditions. It allows the solar panel to charge faster. 
Conclusion 
Solar street lights are a great way to reduce dependence on hydroelectricity. A lot of innovation has been done in the field of solar energy, in general, and street lights in particular. When purchasing a product related to solar power, it is important to know all the great things that are available in the market. Technologies like motion sensing, MPPT, spreadlight lenses, etc not only make life easierbut conserve electricity which is amazing. One should look for all such features when making a purchase.
mindmingles
I believe in creativity and try to express the same with my words. I enjoy writing and keeping myself in touch with the books.