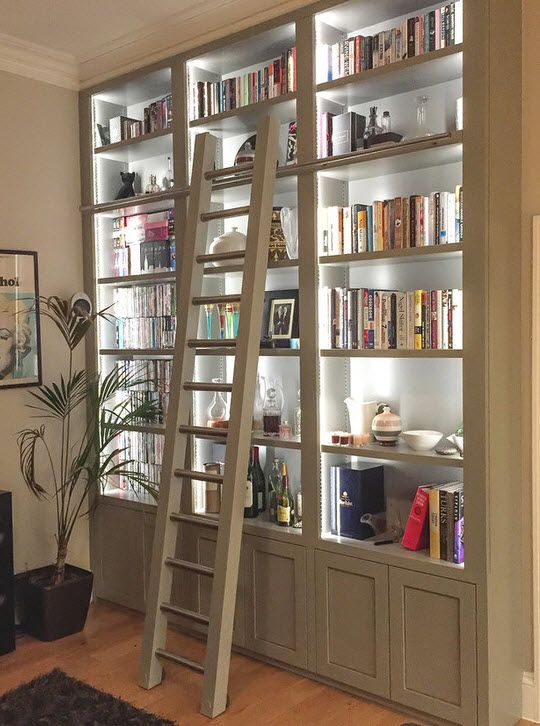 Introduction
The smell of the pages and enticing words of books are just some of the reasons why many people have them in their homes. According to Marcus Tullius Cicero, "A room without books is like a body without a soul." You can often see them intact and well-organized in some bookshelves.
However, did you know that your bookshelves can shine through to light up your home too? Yes! You've read that right! Bookshelves can be incorporated with beautiful lights that will surely transform and add more glow and relaxing ambiance to your home! Check them out below.
LED Tape Lights
LED tape lights have features that use less energy which will not cost you more in the long run. Aside from that, they are best used for bookshelves because they are thin and easy to install. You just need to peel the tape and attach them to the surface of the bookshelf where you want to add the lights.
They simply come in various colors that you couldn't resist! It means that you can choose your desired ambiance of the room from romantic moods to anything you can imagine! However, make sure to only purchase them from the most trusted LED tape light supplier.
Bookshelf Lamps
Bookshelf lamps are probably the oldest lights you can use to your bookshelves. Even gas lamps are perfect in illuminating the whole room. Modern lamps may come in different colors but old gas lamps can still give you the warmth needed for a quiet night with your books. They are artful and full of history as they are the ones used from the past in the absence of electricity.
If you aim to get modern lamps instead of gas lamps, you will have the chance to get the design that you like. In addition to that is the integrated features of automatic dimming control that you can also purchase.
LED Book Lamps
You might think that the lights of your LED book lamps are just for your reading session at night, well you got it all wrong. LED book lamps are also one of the best lights that can illuminate your bookshelves. Even though they are small, they still shine brightly like having adventures with the fireflies every night.
LED book lamps come in different sizes. They are even more convenient as they have built-in batteries that no longer need an outlet for electric power. Furthermore, they have a cheaper price than other bookshelf lights that can illuminate your room.
Christmas Lights
Do you hide your Christmas lights after the Christmas season? Well, you no longer need to keep them that long! You can now use Christmas lights as light decorations to your bookshelves! This is a life hack that some are unaware of. Christmas lights come in different colors from white, green, red, blue, purple, orange, and yellow. However, it is believed that yellow Christmas lights can best illuminate the whole room.
On the other hand, you can even put them inside a jar that will surely add another beautiful ambiance when placed together with your books in the bookshelves.
LED Candles
The main reason why we want you to use fake candles instead of real ones is to avoid danger. These candles are empowered with electricity which you can light up safely unlike the traditional candles. Candles are always considered to be part of any romantic setting and will never go out of style in giving the perfect ambiance for your room.
You can buy these LED candles in different shapes and sizes. This gives you a wide range of choices to get the best candle lights option possible of illuminating the whole room.
LED Light Boxes
LED light boxes are widely used for any light setting. They are very common because they are easy to make. You can even make some DIY if you don't have enough budget in purchasing them. They are usually made of boxes with different lights installed inside. Usually, the lights installed have built-in battery feature to tightly close the box, without any cable outlet needed.
Additionally, if you are willing to do some DIY light boxes, it would be best if you incorporate them with shapes, numbers, and even quotes from your favorite book. This way, you can place them in the middle of the bookshelves alongside other books.
Just in case you're not comfortable with making one, you can still choose from the wide range LED light boxes sold online and on the market.
Conclusion
We know how much you love your books. We also feel the demand for styling them up in a way that could benefit your whole room! You are one step away from achieving the perfect lighting ambiance that will surely inspire you to collect more books! Decide your preferred choice of bookshelf lighting now!
stopie