Discord is the lifeline for gamers and streamers, with millions of gamers using it every day. If you're one of them, connectivity issues in Discord are the last thing you want. Unfortunately, many users have experienced that sometimes Discord can't connect to voice.
If you're facing the same issue, here's a comprehensive guide to eliminating it.
What Is Discord?
Discord is an instant messaging, voice over internet protocol (VoIP), and content distribution platform that allows you to create and join servers and interact with fellow members. Each server has a text and voice channel, allowing users to choose their preferred mode of communication.
Though Discord is the communication hub mainly for gamers, streamers, and developers, many businesses have also adopted it, ditching Slack and other team communication tools. It is free to use and offers useful features for team communication.
Discord Can't Connect to Voice: What Is the Issue?
Discord doesn't have a great record in providing a hassle-free experience to customers. Users face frequent downtimes, and another issue that has erupted recently is that users can't connect to voice channels. When they join a voice channel, their screen gets stuck. It's needless to say how terrible your gaming experience can become if Discord gets stuck. The only thing a gamer wants is a smooth experience with his buddies.
Now, why can't you connect to the voice? Here are some common causes.
Bad Internet Connection: Router issues and bad internet connection are the most common causes of voice connectivity problems in Discord.
Firewall or DNS Issue: Improper firewall or DNS settings can also interfere with your connection.
Malware/Virus: If your system has malware or virus, it can affect your connectivity.
Incorrect Date and Time: A mismatch in the date and time can also cause voice connectivity issues.
Third-Party Apps: Sometimes, apps like Twitch may interfere with Discord's connectivity.
What to Do if Discord Can't Connect to Voice?
Having discussed some probable causes of voice issues in Discord, let's learn about how you can fix them. Here are some methods you can use to overcome the voice connectivity issue in Discord.
Restart Everything
The first thing to do is restart the Discord app and join the voice channel again. If the issue is due to a glitch, it will go away after restarting the app. If it persists, restart your PC and then join the voice channel. At the same time, also restart your router to reset your internet connection. Once you've restarted everything, open Discord and join the voice channel.
Switch Your Internet Connection if Discord Can't Connect to Voice
Poor internet connection is the leading cause of voice connectivity issues in Discord. Check your internet connection to rule out any problems. If you discover issues with your internet, try switching your internet connection to another provider. The problem will resolve if your internet is causing the issue.
Also, proxies can mess up your voice connectivity on Discord. If you use a proxy server, disable it and see if you can connect to the voice channel.
Automate Your Date and Time Settings
Discord has its own built-in date and time clock, and so does Windows. As long as the two clocks show the same date and time, you won't face any issues. However, if the two clocks have different dates and times, it could lead to connectivity issues.
An easy fix to this problem is to enable "Set time automatically" on your Windows PC. Doing so will enable your PC and Discord to have the same clock, eliminating potential issues.
Change Your DNS Settings
The next thing you can do is modify your DNS settings. Sometimes, improper DNS settings can affect Discord voice connectivity. You can fix this issue by modifying your DNS settings. To do that, press Win + R on your keyboard to open the Run box. Type in "ncpa.cpl" and press Ok. 
A list of internet connections will appear. Find the one you're using; right-click on it and then click on Properties. Click on the TCP/IPV4 option, and head to the general section to edit the DNS address. Now, go to the preferred DNS server section and set the DNS address as "8.8.8.8" and the alternative DNS server as "8.8.4.4."
Save all the settings and see if the issue has been resolved.
Edit Your Firewall Permissions
The Windows Firewall does a great job of blocking malware, viruses, and other risky files. However, it is a bit too aggressive sometimes. It may block Discord from connecting to the server, leading to connectivity issues.
If Discord is on the radar of your firewall, you'll face connectivity issues. To overcome this issue, go to the Control Panel, then to Systems and Security, and then to Windows Defender Firewall. In this section, go to the setting for allowing a particular app or feature through the firewall, and add Discord to that list.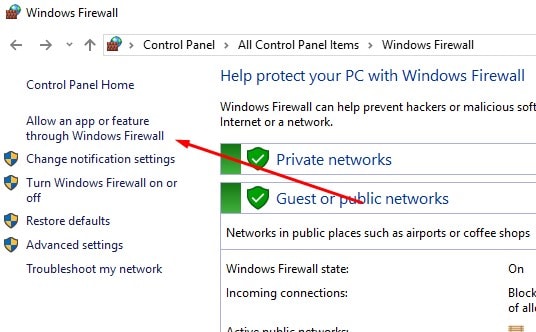 This way, the firewall will not interfere with Discord.
Eliminate Virus/Malware from Your System
If your system is infected by malware or virus, Discord connectivity issues may arise. You can run a scan using the Windows Antivirus to check for any threats. However, Windows Antivirus isn't the most effective, and it may fail to track some troublemaking elements. Therefore, it's better to use specialist solutions like McAfee or Malwarebytes to identify and eliminate viruses.
Get Rid of Conflicting Apps
Sometimes, apps that require similar permissions as Discord may interfere with its operations and connectivity. Twitch is a classic example, but there can be other apps too. Disabling these conflicting apps can allow Discord to form a strong connection without any issues.
Wrap Up: Discord Can't Connect to Voice
Discord is an instant messaging and VoIP platform used mainly by gamers and streamers. Voice chat is its most popular feature, but sometimes, Discord can't connect to voice. In that case, you can follow the troubleshooting steps discussed above. You can follow them in any order of your choice.
So, has your voice connectivity issue been resolved?
Vikram Deo