The word 'wardrobe' refers to both a cupboard in which clothes are hung and a collection of clothes owned by a person. In this blog post, we have referred to the latter meaning whenever we have used the word 'wardrobe'. We have discussed what a men's capsule wardrobe is, and how you can build it.
Every person creates their wardrobe by selecting the clothes that suit their body type, complexion, fashion sense, preference, and budget. A wardrobe contains all types of apparel meant to be worn on different occasions, such as casual meetups, business meetings, family parties, outings, etc. It also includes clothes people wear when they are simply relaxing at home or sleeping.
The purpose behind carefully designing the wardrobe is to ensure that it comprises every type of dress a person might need. You need to invest time and money just once to make your wardrobe. Then, you don't have to worry about deciding what to wear when you get ready every morning or when you want to go outside.
Depending on the choice and budget of a person, a wardrobe, i.e., the collection of clothes owned by them, can be small or large. Many people don't like to repeat their clothes often, especially those clothes that they wear before going out. In such cases, they have to buy many items of clothing. Similarly, people who have to fulfill different roles, like a homemaker, an entrepreneur, an employee, a social worker, a parent, and a friend, also buy several dresses to stay prepared for various occasions.
What Exactly is a Men's Capsule Wardrobe? Let's Find Out
As we have mentioned in the previous paragraph, many people have to include a lot of clothing pieces in their wardrobe. Men who can relate to it can implement an effective solution known as a capsule wardrobe. If you have heard of capsule hotels, which took the internet by storm a few years ago, you must be aware of the concept of such hotels.
Developed in Japan, a capsule hotel is a type of hotel that has numerous rooms, which have the size same as a bed. The rooms in this type of hotel have only basic necessities, such as a bed. Guests have to use a communal shower facility. The whole idea behind developing such hotels is to keep it minimal.
Similarly, the whole idea behind creating a men's capsule wardrobe is to keep it minimal. You don't need to purchase a large number of clothes. You need to buy only a limited number of clothes. You can choose the clothes based on your taste, immediate and future needs, and budget. You can select the right physical store or online store to buy clothes considering factors like quality, availability, variety, and cost.
But while purchasing the clothing pieces, you need to ensure that they are interchangeable. In simple words, the clothing pieces you buy should complement each other so that you can make different combinations using the same pieces.
Thus, a capsule wardrobe allows you to create a huge variety of outfits and have a sufficient number of outfits suitable for every occasion without buying an excessive number of clothes. You might be wondering, 'How Is It Possible?'. Wearing Denim jeans with different t-shirts or wearing a black jacket with every outfit might seem ideal to people, but using the same approach with every piece of clothing might seem baffling to you. Worry not, as we have explained in the next section how you can make a men's capsule wardrobe.
How to Create a Men's Capsule Wardrobe? Read It Here
It's a common perception that women complain about not having enough dresses to wear whenever they open their closet or almirah. Well, you might not believe it, but men are not any different. Just like women, men also get bored with their clothes quickly. In such a case, imagining a man using the same clothing pieces to create different outfits can be difficult. But wait till you find out how to build a men's capsule wardrobe effectively, as it will remove all your doubts.
1. Think of all the Occasions You Need Outfits For
Only you can know for sure which are all the occasions you need outfits for, as only you know your lifestyle and the activities you engage in. For example, if you are working remotely and have no intention of going back to an office, you might not need suits, which are generally worn in offices, meetings, and presentations.
If you play different sports, you might need plenty of casual outfits. Determine the type of outfits you need, such as casual, formal, sports, gym, swimming, and so on, depending on various occasions. Decide on the minimum number of all types of outfits required by you.
2. Check Your Closet or Almirah to Know What All You Have
The next step in making a men's capsule wardrobe is to check your almirah or closet. You should take all the pieces of clothing from your closet and keep them on a bed or table. It will help you to know how many and what kind of clothes you own.
Assess the condition of each piece of clothing. If you feel that a certain piece is not in good condition anymore, you should dispose of it. You should also get rid of those clothes that you don't like wearing, for example, a shirt that you purchased just because it came at a discount or a pair of khaki trousers that you bought after getting influenced by your friends.
Categorize the remaining clothes into categories like your most favorite, less favorite, and least favorite. Think about why some clothes are your most favorite, whereas some are your least favorite. It will give you an idea of the fabric, colors, and textures you like. Finalize the clothing pieces you want to keep. You can donate the remaining ones.
3. Make a List of the Clothing Pieces You Require
Once you know what outfits you need, what clothes you possess, and what kind of clothes you like, you can make a list of clothing pieces you require to build a men's capsule wardrobe. Make a list of the outfits and a list of the clothing pieces you own.
Then, compare both lists and prepare a list of the clothing items you need to buy. Then, shortlist the physical and online stores that sell the clothes you require. You should consider important factors like your preferred fabric and colors, your size and style, ease of cleaning, and the cost while shortlisting the stores.
Start your shopping spree with enthusiasm. Visit the brick-and-mortar stores and websites to check if the clothes you want are available or not. It's worth mentioning here that you should buy high-quality clothing pieces as they will stay longer, and thereby, you will get more bang for your buck. You should ensure that your wardrobe comprises outfits for all seasons of the year.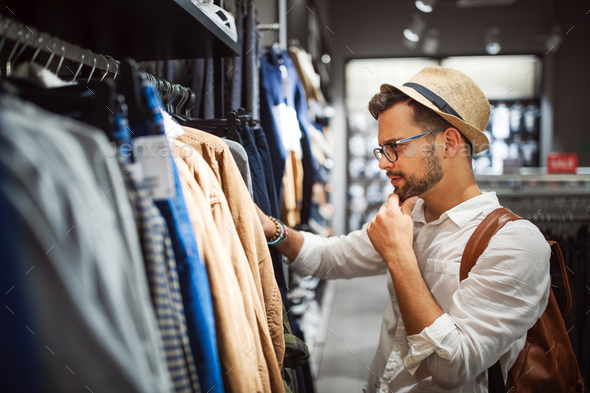 4. What are the Points You Should Take Care of?
When it comes to creating a men's capsule wardrobe, you can follow some useful tips regarding colors, designs, and styles. You will build your capsule wardrobe only once in a year or two, so you must take care of the necessary points. If you fail to do so, it will lead to the wastage of your time and money.
You should choose clothing pieces that have been in trend for years, as such pieces will not go out of trend any time soon. A few examples include a plain white shirt, a pair of black jeans, and a gray hoodie.
As the clothing pieces have to be used as a part of multiple outfits, they should be versatile. In simple words, if you are buying a t-shirt, make sure it's suitable for different occasions, such as a get-together, a hangout at a local bar, and a video call with the client.
If you are buying a fancy shirt or t-shirt in bold color, you should keep in mind that you will be able to wear it rarely and not frequently. It negates the whole point of building a men's capsule wardrobe.
Some of the clothing items that are essential in a capsule wardrobe for males include but are not limited to a t-shirt with a round neck, a t-shirt with a collar, a t-shirt with a catchy slogan, a t-shirt with the artwork depicting your favorite artist or sports team, a shirt with stripes, a shirt in a bright color, a sweatshirt in a neutral or dark color, a ripped jeans, a jumper, a pair of chinos, a suit, a blazer, a pair of pajamas, a pair of shorts, swim shorts, ties, an overcoat, a jacket, a denim jacket, and socks.
Conclusion
Once you have built a men's capsule wardrobe, you should focus on your shoes, socks, and accessories. You need to have shoes, socks, and accessories that match your outfits.
Priya Bhagtani