Excel, which is officially known as Microsoft Excel, is a spreadsheet program used for a wide range of purposes across industries and countries. It is a part of the Microsoft Office Suite of software. Other programs included in the suite are Word, PowerPoint, OneNote, OneDrive, Teams, Outlook, SharePoint, and Yammer.
As you must have guessed by now, Excel is developed by Microsoft Corporation, an American multinational technology corporation. From manufacturing laptops to creating applications, Microsoft is known for providing a variety of products and services to users across the globe.
Along with Windows, which is a proprietary operating system developed by Microsoft, Excel is also available for other operating systems, such as iOS, macOS, and Android. This spreadsheet program can be accessed on desktops, laptops, smartphones, and tablets. Users of Microsoft Excel may face difficulties regarding different functionalities. One such difficulty is "how to find duplicates in Excel?". We have tried to provide an answer to this question in this blog post.
What is Microsoft Excel? How Is It Useful?
Microsoft Excel allows users to create spreadsheets (also known as worksheets) that can be used to store, read, organize, and compute data. A single file in Excel is known as a 'Workbook'. It contains multiple sheets, which are called 'Spreadsheets' or 'Worksheets'. An Excel worksheet has rows and columns, and so, the data is stored in a table format.
Before we see how to find duplicates in Excel, let's have a look at the uses and benefits of Microsoft Excel. It should not be surprising to know that Microsoft Excel is incredibly beneficial in many ways. It is used in educational institutes, business firms, government departments, non-government organizations, and many other places due to its benefits.
You can record numerical data in Excel workbooks to perform calculations, make pivot tables, create macros, use graphing tools, and do much more. People use the Microsoft Excel program to analyze data to make important decisions regarding economics, business, development, and more. Whether it's a month-end income and expense statement of an individual or a balance sheet of a large company, various kinds of sheets can be made using Excel.
Learn How to Find Duplicates in Excel using Menu Options
Depending on the nature and purpose of the data you have stored in a Microsoft Excel file, the data might have some parts that are duplicated. The term 'duplicate data' refers to the data which is present twice in a worksheet. At times, it can be difficult for people to use the data properly due to the presence of duplicates. Therefore, learning about how to find duplicates in Excel is quite helpful.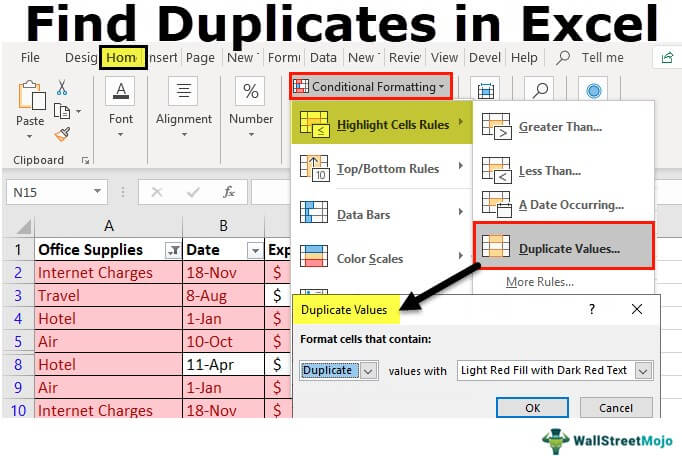 First of all, select the cells that you want to check for the presence of duplicates.
Go to the 'Home' tab and then go to the 'Styles' group.
Click on the 'Conditional Formatting' option.
A drop-down list having different options will open up.
Click on the 'Highlight Cells Rules' option.
Then, click on the 'Duplicate Values' option.
A box with the title 'Duplicate Values' will open up.
Go to the field titled 'Values With' in the box.
Choose the formatting style from the drop-down menu.
Select a formatting style of your choice.
Click on the 'OK' button to confirm your selection.
When you follow the steps mentioned above, the cells with the duplicate values will get highlighted. Now that you know how to find duplicates in Excel, you should also know how to remove them. Users find duplicates to either remove them or analyze them further. If you want to remove the duplicates in Excel, you should follow the steps mentioned below.
Select the cells from which you want to remove duplicates.
Go to the 'Data' tab and then go to the 'Data Tools' group.
Click on the 'Remove Duplicates' option.
A box titled 'Remove Duplicates' will open up.
A list of all the columns will show up in the box.
Put a tick mark next to the columns from which you want to remove duplicates.
Click on the 'OK' button after selecting the columns.
You will notice that the cells with duplicate values will be removed from the selected columns. You might wonder how duplicate values got entered in an Excel worksheet in the first place. Well, as we have mentioned earlier in the blog post, duplicate values can become a part of your data due to any reason.
But if you know how to find duplicates in Excel and how to remove them (if at all you want to remove them), you can continue to work on your data in a smooth manner. You can also remove cells with triplicates from an Excel worksheet.
Conclusion
Microsoft Excel is an amazing spreadsheet program that can help you both personally and professionally. You can maintain a record of personal expenses as well as business costs.
Priya Bhagtani