If you like experimenting with your footwear, you must have worn 'Crocs' at least once in your life. Unlike what many people think, 'Crocs' is not a type of shoe. The term 'Crocs' refers to the brand or the company that manufactures unique shoes. Over time, these shoes began to be known as 'Crocs' or 'Crocs Shoes'.
Crocs are made from a material called 'Croslite', which is a proprietary closed-cell resin of the Crocs company. This special resin material is lightweight and soft, and thus, Crocs are extremely comfortable to wear. Croslite resin also has other qualities, such as waterproof, odor-resistant, and non-marking. Crocs have become a top choice for many people when it comes to footwear.
Hence, people are now interested in finding out "How to Style Crocs?". We know that you are also one of them. Whether you have started wearing Crocs recently or have been wearing them for a long time, you can now style them differently. We have mentioned 7 brilliant ways of styling Crocs in this blog post so that you look more fashionable and dazzling than ever before.
Why Should You Learn How to Style Crocs?
You might not be aware but people notice your feet more than you think whenever you step outside of your home. Whether you are at work, at a social event, or a cultural fest, people you meet take a glance at your feet, and thereby, your footwear. The footwear you have worn plays a huge role in your overall appearance, which in turn, plays a considerable role in the impression you create on others.
Therefore, you must wear clean and decent footwear. You should also make sure that the footwear you have chosen is comfortable. Once these points are taken care of, you can move on to the next point, which is styling your footwear. The way you style your footwear affects not only your looks but also your mood because when you look your best you feel great.
You can style Crocs in various interesting ways because of their design and versatility irrespective of the occasion you are wearing them on. Introduced in the year 2002 as a boat shoe, Crocs are available in a wide range of types, including but not limited to shoes, flats, clogs, boots, sandals, sneakers, and flip-flops. They are also available in numerous colors for people of all age groups and genders. So, if you have one or more pairs of Crocs, you should definitely learn how to style Crocs.
How to Style Crocs? Learn 7 Different Methods
Crocs have proven to be one of the most preferred footwear options in different parts of the world. Heels might be loved by a ton of people, but Crocs have their loyal fans. Crocs are popular even amongst celebrities. While celebrities have fashion experts to help them style Crocs, you can take the help of this blog post.
Now, without wasting any time, let's see how to style Crocs.
Patterns
If you are a fan of patterns, you should definitely give this method a try. Wear clothes whose design includes a pattern. Pair them with Crocs that have patterns printed on them. You can choose the patterned clothes according to the pattern and color of your Crocs. Shirts, skirts, dresses, and other types of clothes usually have patterns like plaid, stripes, polka dot, camouflage, animal prints, and floral. You can select the accessories and jewelry once you have decided on apparel and Crocs.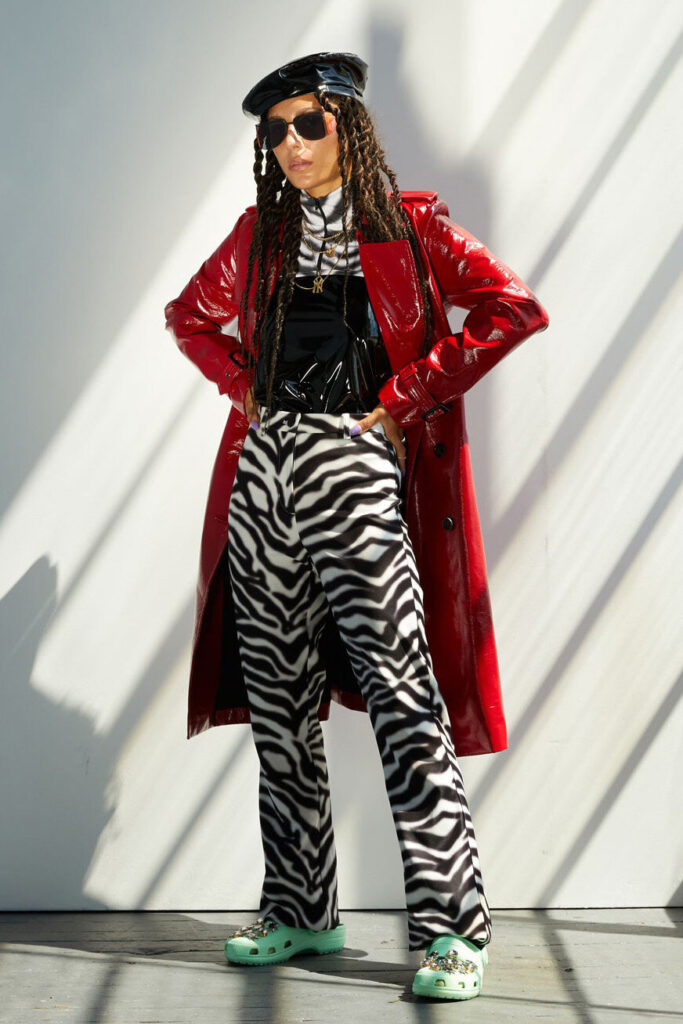 Contrasting Colors
Another way to wear Crocs stylishly is to choose contrasting colors for your look. In simple words, the color of your outfit should be in contrast to the color of your Crocs. So, if you have green Crocs, you can wear an outfit that is red in color.
If you have Crocs in purple color, you can opt for a yellow outfit. When you don Crocs and clothes have contrasting colors, you capture the attention of people (Of course for good reasons!).  You can use this styling method when you go to fun parties, clubs, jazz nights, and similar events where people often show their quirky sides.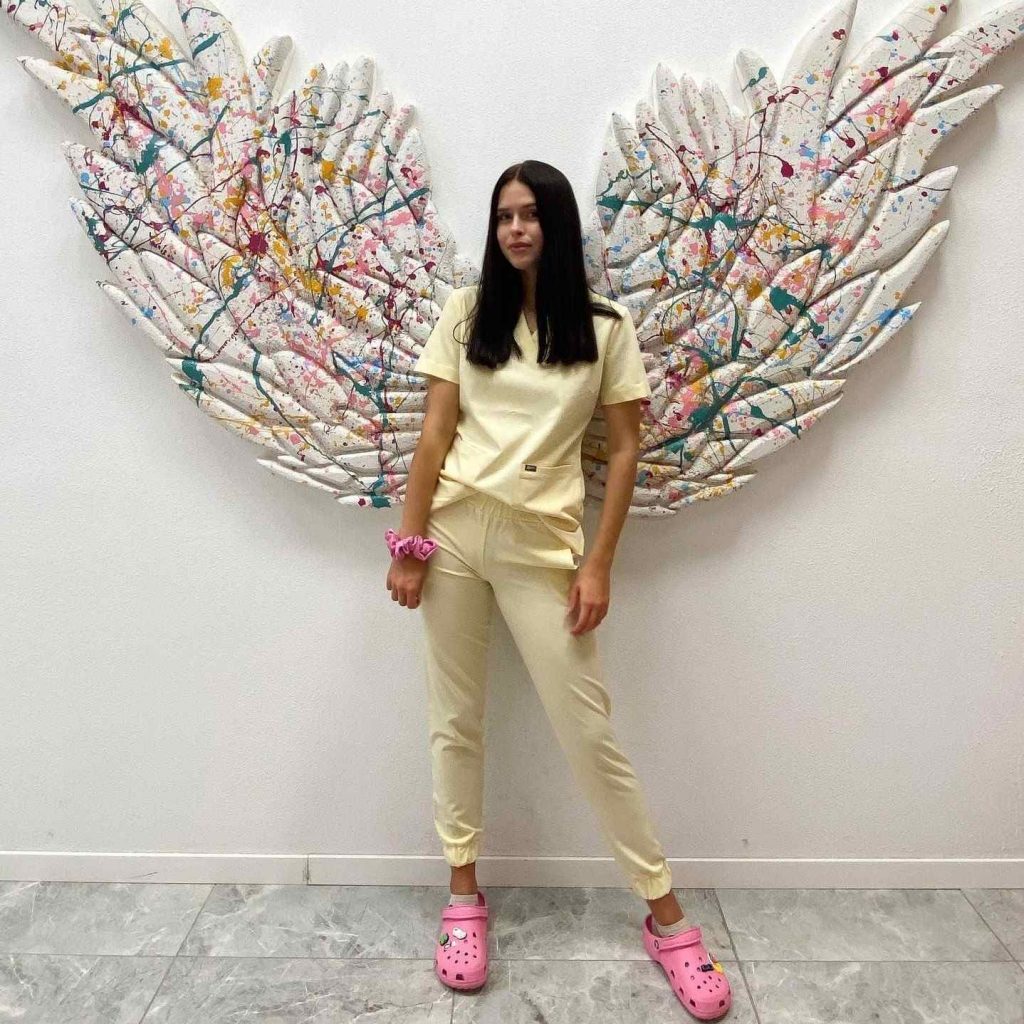 Croc Accessories
The third way related to how to style Crocs might not appeal to you but nevertheless, you should know about it. If you are someone who likes to keep it simple when it comes to clothing, appearance, and fashion, you might have never used Croc accessories before. These accessories are made especially for Crocs.
Considering the fact that some people just like to make everything look more elaborate, a wide range of accessories are available. You need to buy the right accessory and put it on your pair of Crocs. Charms, wings, and chains are some of the types of accessories you can buy for your Crocs.
Monochrome
Earlier we talked about pairing your patterned Crocs with a patterned outfit. Fashion experts have also suggested another way to look glamorous by matching your clothes with your Crocs. You can go monochromatic while choosing your outfit and a pair of Crocs. Wearing clothes whose color matches the color of your Crocs is a trend many celebrities have followed to date. Whether the color is dark, bright, light, or pastel, you can never go wrong with this styling method.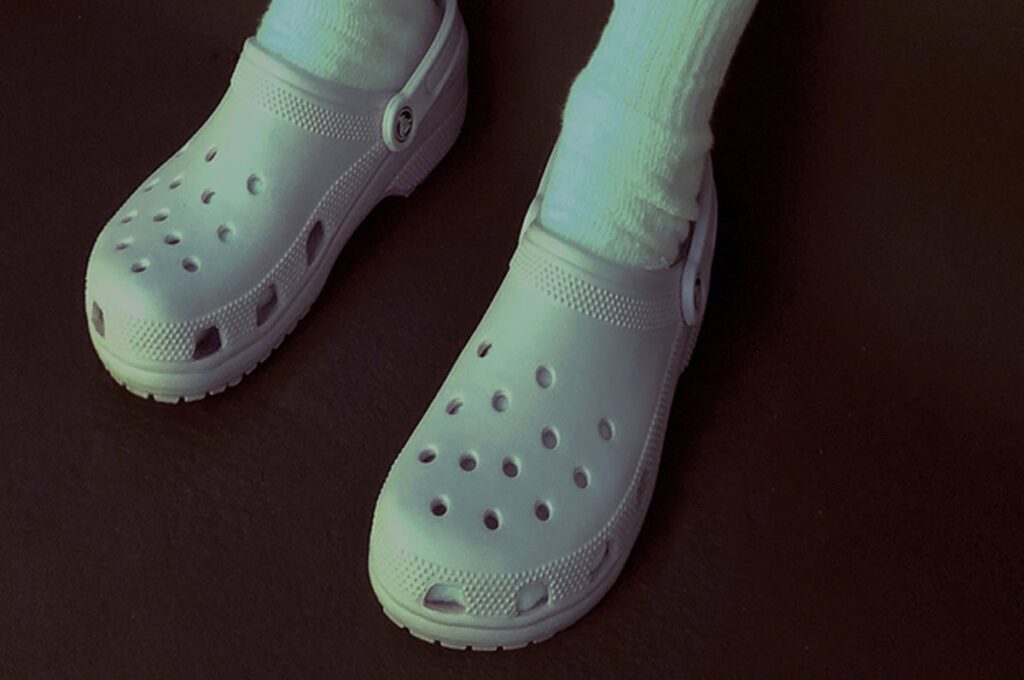 Simplicity
Sometimes, keeping it simple is the right answer, irrespective of the occasion, weather, and other factors. You can go for a simple outfit to pair up with your Crocs. It is the best answer to the question "how to style Crocs" in the case of people who don't like to play with fashion or experiment with their looks. This styling technique is also useful in situations where you don't have much time to select a dress.
All you need to do is choose pieces of clothing that fit the definition of the word 'simple'. For many people, it would just mean a plain white shirt or t-shirt and a pair of denim jeans or shorts. For some ladies, it might also mean a tank top instead of a shirt or t-shirt. In a nutshell, wear an outfit that is not extremely elaborate or over-the-top.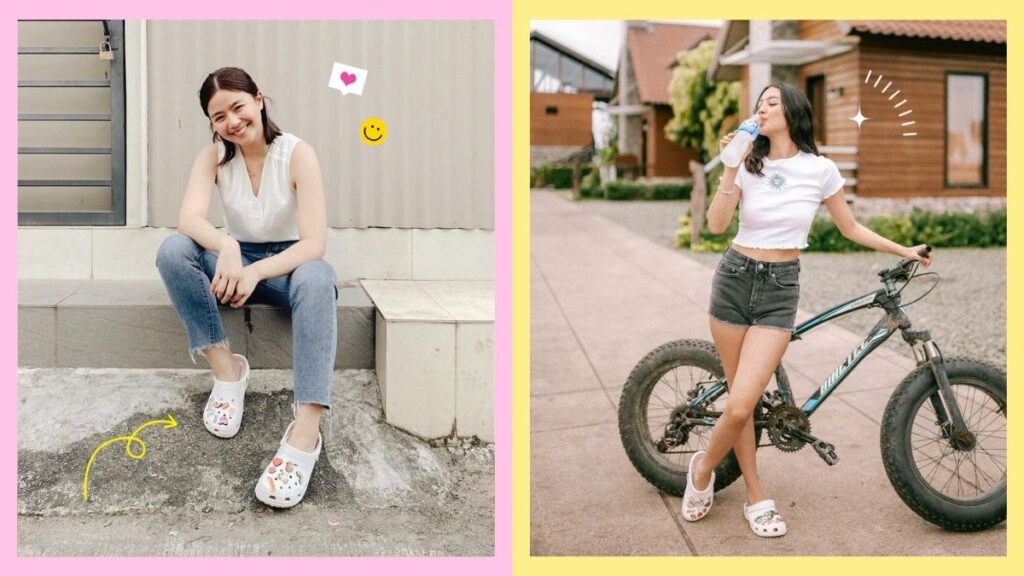 Bold and Bling
If you are not pleased with the idea of keeping it simple, you can go for a bold look when you have worn Crocs. This method is perfect for situations where you want to wear Crocs to a party, gathering, or any event where people usually wear elegant clothes.
A cocktail dress, crop top, bandeau top, tube top, wrap top, maxi skirt, high-waist skirt, tulip skirt, bell bottoms, and wide-leg trousers are some of the options available to you. If you are attending a professional event, you can wear formal pants. If you are attending a social event, you can even add a little bling to your outfit. You can opt for chic pieces of jewelry.
Quarter Socks
We know that just like many other people, you also might be finding it hard to wrap your head around the idea of wearing socks with Crocs, but this trend is being followed a lot these days. When it comes to how to style Crocs, you can just pick a pair of the right socks instead of pondering over the outfit to wear. Quarter socks are your best bet when you have to wear socks with Crocs. You must be comfortable with the socks you wear in order to pull them off with your Crocs.
As far as the color of the socks is concerned, you can choose a color as per your preference. You can also keep in mind the color of the outfit while selecting the socks. You can choose socks with soft, warm, or bright colors. You can even go for patterned socks. They will go well with patterned clothes and patterned Crocs.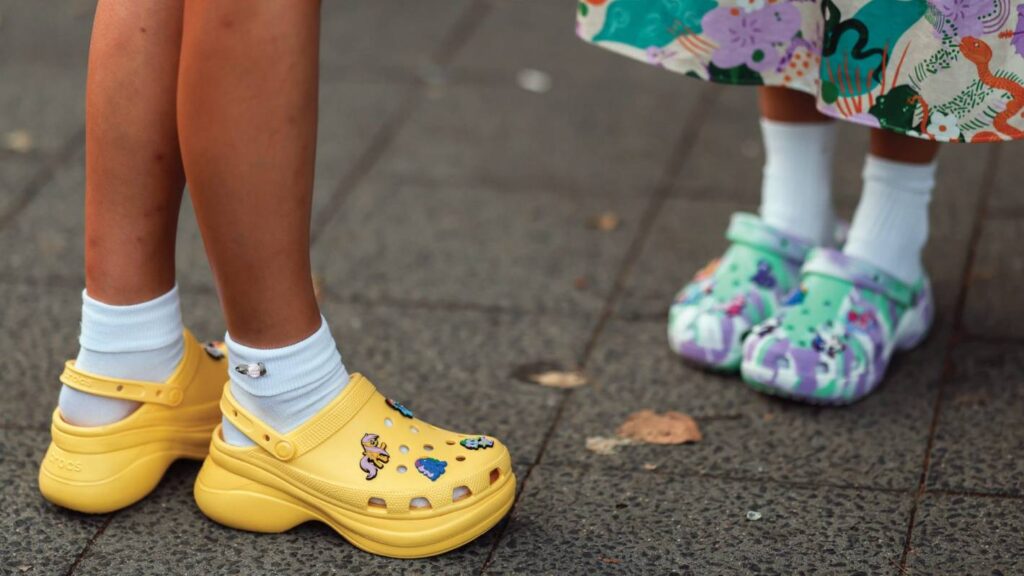 The above-mentioned seven methods just give you a hint on how you can style your Crocs. You can use many other techniques to wear Crocs in a stylish manner. You can even come up with your own ways. All you need to consider is the occasion or event, the type and color of the outfit, accessories and jewelry, and so on.
You can wear the same pair of Crocs with different outfits as per the occasion. If you are trying to go for a relaxed and casual look, choose Crocs that have neutral tones. Similarly, if you are trying to go for a sporty look, choose Crocs with bold colors. Crocs suit various types of clothes, including but not limited to denim, casual t-shirts, partywear, and winter dresses.
Wrapping Up
After wearing Crocs frequently or a significant number of times, you will get new ideas regarding how to style Crocs. You just need to understand your personal style and comfort level to make the right decision. You can look your best throughout the year with Crocs.
Priya Bhagtani