Garlic is a super ingredient, and you simply cannot miss out on this ingredient to give your curries, kinds of pasta, and other recipes a super twist. It's delicious, good for your health, and at the same time, it has got a wonderful aroma. And the best way to add this twist into your curries is by roasting them. But how to roast garlic is something adversely tricky.
But who better than us can give your superb tricks? So, to help you out and teach you how to roast garlic in the easiest way, we've come up with the best tricks below! Start scrolling down, and we'll teach you in no time. Hang in there to know it all!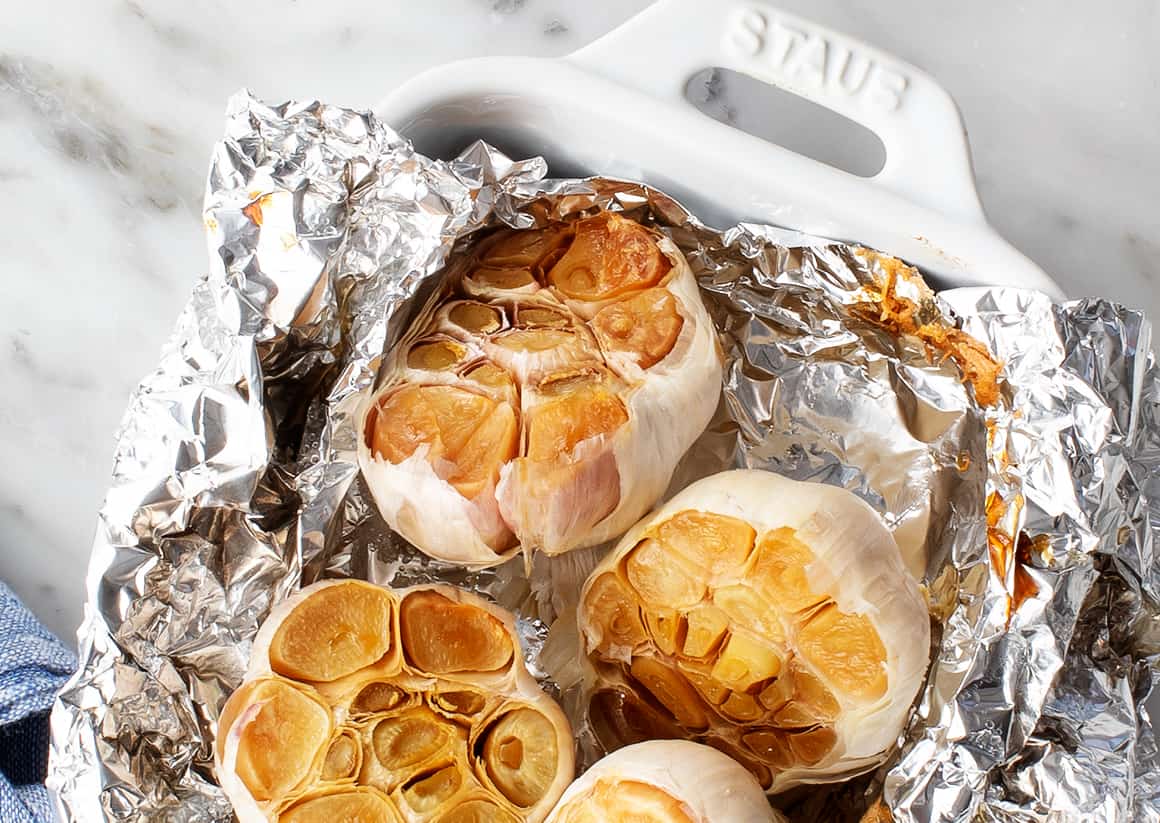 How Does Roasted Garlic Taste?
Well, for those of you who don't know the effect and taste of roasted garlic, this one is particularly for you.
When you roast garlic, it has a fantastic aroma and becomes extremely creamy. Of course, not that easy; you would have to know the right way to do so, which we will talk about in the segment below.
However, roasted garlic surely can be a great spread over salads and other baked foods. Some people add a little bit of butter in it as well to enhance the taste of roasted garlic. This is all we can tell you about the taste of roasted garlic; let's talk about how you need to make it in the segment below.
How to Roast Garlic?
OK! Now let's get into the ingredients you need to roast the garlic with!
Garlic, of course. (Ideally, you can roast around 3 pieces of garlic to make a paste)
Olive Oil (You can use the oil that doesn't have too much of an aroma! However, nevertheless, olive is great for your health and taste buds too!)
The process to Make Garlic Roast
Now let's get into the recipe in detail!
First, take the whole garlic and cut it in half. When you cut it into half, you can be sure that the garlic will be cooked thoroughly.
Once you cut the garlic, take a foil and place the garlic on it.
After that, now it's time for you to drizzle some olive over the cut garlic.
When you are using aluminum foil, always remember lightly to wrap it.
Now preheat the oven for around 200 degrees Celsius or 400-degree Fahrenheit.
But when you are placing the garlic into the oven, remember not to reduce the heat. If you reduce the heat, you can be sure that the garlic will not get burnt, or the skin of the garlic will not stick to the aluminum foil.
Now we would want you to roast the garlic for around 30 minutes.
The moment you see 30 minutes are over, you can open the oven and take out the garlic.
This time open up the foil wrap and let it caramelize for around 5 minutes. It's best to do so to make sure the garlic has a beautiful golden color.
Voila, your garlic is now roasted!
The process that we've asked you to follow at the moment is super easy, and anyone who knows how to cook should manage to do it perfectly. Remember, the trick is to keep the timing and temperature in check. Only by ensuring these two things can you very well get perfectly roasted garlic in no time.
Recipe to Make Roasted Garlic Sauce
As we have already mentioned, making roasted garlic can be tricky, but with the help of our method, you can do it with ease. And, of course, within a few minutes. Once you have done this, it's time you start making the sauce.
The roasted garlic sauce is super easy to make and happens to be my favorite of all time. I personally love consuming this! So, without any further delay, let's take a look at how you need to make this superbly delicious recipe.
Smash out the garlic from the bulb and discard the skin of it. Once you have done that, you'll notice the garlic pop out into a nice paste.
In that garlic paste, add some salt and pepper.
Some people add cheese and other seasonings like red chili flakes, oregano, and more.
However, you can have it plain as it tastes scrumptious anyway!
Make this superb sauce and have this with bread or chips! Some people like this over roasted chicken and shrimp too! So, go ahead and try this out, and we're sure that you will fall in love with it any time.
How to Store Roasted Garlic In The Best Way?
Now that you've tried such a beautiful recipe, you are sure to fall in love with it and eventually will want to have more of it, maybe in your mash potatoes too!
But is it possible to always roast the garlic? Well, we're afraid that it's not always easy to do! So, we suggest you always store some in your refrigerator to consume it as and when you want to. But how? Well, let's find out!
Once you have roasted the garlic, remember to add salt or any other ingredient to it. The oil while baking is just fine to keep the garlic in good condition.
Take out an airtight container and pour out the sauce into it. When you are done, please place it in the refrigerator. You can actually store this for up to 3 days or more. But ideally, consuming it within 3 days is fine.
Final Thoughts
As we come to the end of our blog today, we hope you know exactly how to roast garlic and make a scrumptious sauce out of it. Make it up soon, and do let me know how you liked this superb recipe.
Vikram Deo