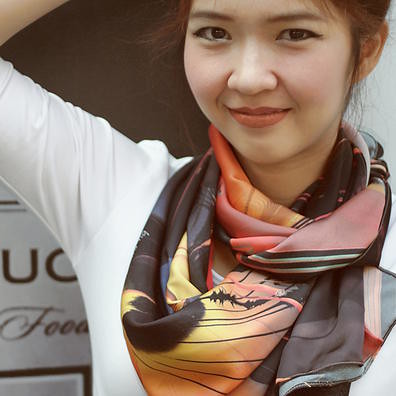 The trends in fashion accessories keep constantly changing because fashion is bound to change. New trends keep coming up, and people follow those trends to look stylish. Accessories complete your outfit and accentuate your overall look.
When we say 'accessories', we mean not only the objects, such as a watch or jewelry, such as a bracelet. The term 'accessories' also encompasses clothing pieces, for example, a scarf. The list of fashion accessories in the case of both men and women is incomplete without including scarves. It might be small in size, but when worn, a scarf makes a big statement. Silk scarves are quite popular these days. Teenagers and grownups of all genders wear silk scarves.
But having the knowledge of how to wear a silk scarf is important in order to wear the scarf confidently. You might be wondering, "How difficult can it be to wear a silk scarf?" or "What is there to learn about wearing a silk scarf?". Well, silk scarves can be worn in multiple ways. Irrespective of the way you choose, it's important to tie the knot on the scarf properly to secure it in place so that it does not fall off. We have mentioned seven different ways in which you can wear a silk scarf in this blog post.
How to Wear a Silk Scarf in Seven Different Ways?
Scarves are worn not only for functional purposes but also for aesthetic purposes. When worn correctly in a way that suits your outfit, a scarf can increase your style quotient. Scarves are made from various types of materials or fabrics, including but not limited to cotton voile, dilly, whisper, chiffon, velvet, pashmina, wool, net, and silk.
Silk scarves have a unique place in the world of clothing and fashion because of their interesting history, elegant look, luxurious feel, and visual appeal. They are a must-have for your closet, especially if you believe in looking your best every single day. You can find non-branded and branded silk scarves easily in the market. Often associated with sophistication, class, and nobility, silk scarves have been in use for centuries.
Both commoners and celebrities wear silk scarves regularly or occasionally. You must have read about at least one character in fictional books whose signature style comprises a scarf. A lot of ladies and gentlemen have one or more silk scarves in their wardrobes. If you, too, have a silk scarf but have been avoiding wearing it because of not knowing how to wear a silk scarf, worry not, as we are here to help you.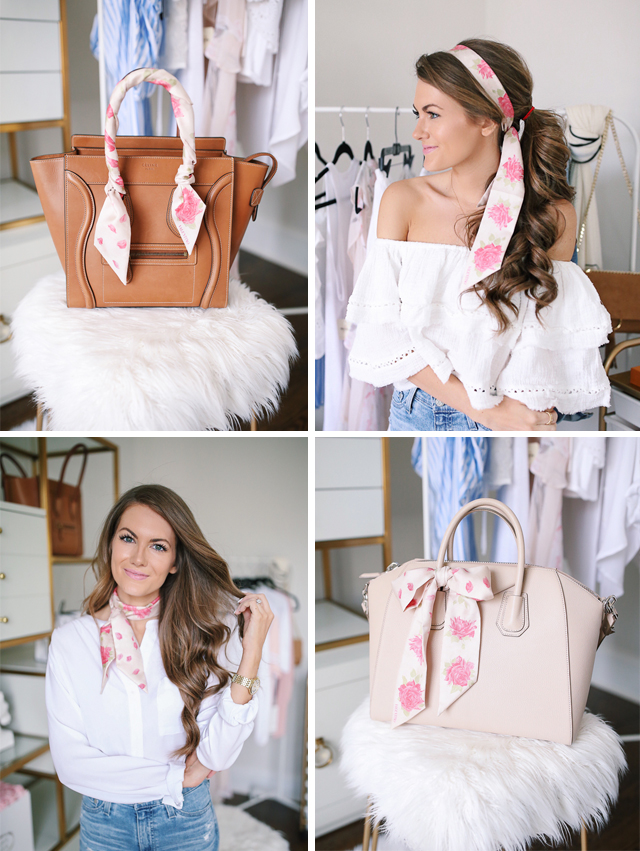 Let's have a look at seven impeccable ways in which you can wear a silk scarf.
Classic Bandana Style
A bandana is a square or triangular piece of clothing which usually has bright colors and beautiful patterns. It is a type of large handkerchief worn on the head or around the neck. Bandanas are not only useful but also symbolic. They were adopted as a symbol of the fight for worker's rights in 1921.
You can wear a silk scarf as a bandana on your head. It will seem as if you jumped right back from the older times. First, you have to arrange your hair. You can either leave it loose at the nape of your neck or put it into a low bun. Then, you have to take your scarf and fold it on the diagonal axis to form a triangle. Now, tie the ends of the triangle into a knot at the back of your head. A silk scarf worn in the bandana style can help you beat the heat of the sun. It can even hold your hair back.
Neck Tie Style
Wearing a silk scarf as a neck tie is a wonderful way to look bold and dignified at the same time. If you are worried that you will look too formal, let us tell you that scarves worn as neck ties don't look formal, unlike ties worn with office outfits. In fact, they can give you a breezy look.
If you know how to wear a silk scarf in the neck tie style, just follow these steps. Take your scarf and wrap it around the back of your shoulders so that the ends of the scarf lie on your chest area. Now, tie a knot a few inches below your neck. You need to keep the scarf a bit loose.
Wrist Wrap Style
Along with the neck and the head, a silk scarf can be worn on the wrist as well. A lot of women like to make their wrists look decorative but don't like to wear jewelry. A silk scarf worn on the wrist is a perfect solution for them. Just take a scarf and fold it into a triangle. Now, twist it over into a thin silhouette. Then, you have to wrap it around the wrist and secure it with a knot.
Bag Strap Style
While a scarf worn in the wrist wrap style is still worn on the body, a scarf worn in the bag strap style is worn on your bag. You might have gotten confused, but let us break it down for you. Many women prefer to hang a small keychain on their bags or purses to make them look fabulous. You can use a silk scarf to take the appearance of your bag up a notch. You have to wrap your scarf evenly around the strap of your bag. Now, tie a knot on the excess ends at one end of the strap.
Headband Style
A silk scarf worn in the headband style is different from the silk scarf worn in the bandana style. Continue reading to find out how to wear a silk scarf in the headband style. Fold your scarf on the diagonal to create a triangle. Decide how much hair you want to cover with the scarf and wrap the triangle over your head accordingly.
Now, cross the two ends of the scarf under the chin or around the neck. Then, you have to tie a knot on your scarf. A silk scarf worn in the headband style makes you look traditional and modest. You should choose a silk scarf of a relatively large size to wear as a headband.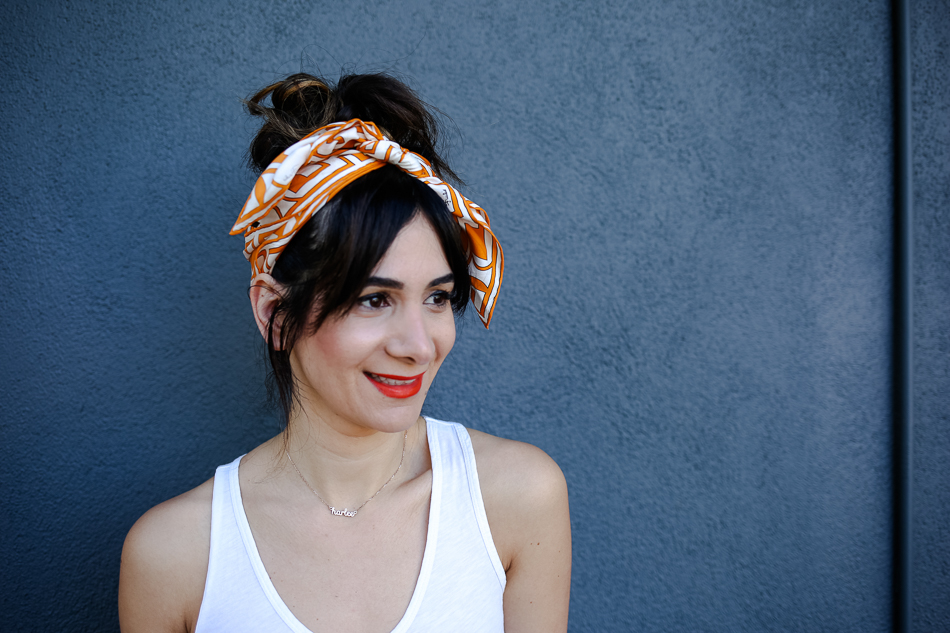 Hair Tie Style
Just like your wrist, a silk scarf can also be worn on your hair. You must have seen actresses in old movies wearing a scarf on their hair. A silk scarf worn in the hair tie style makes you look different from regular days when you wear a hair tie or a hair claw. You just need to wrap your scarf around your low bun or ponytail. You need to tie a tight knot and let the scarf hang loosely down your back.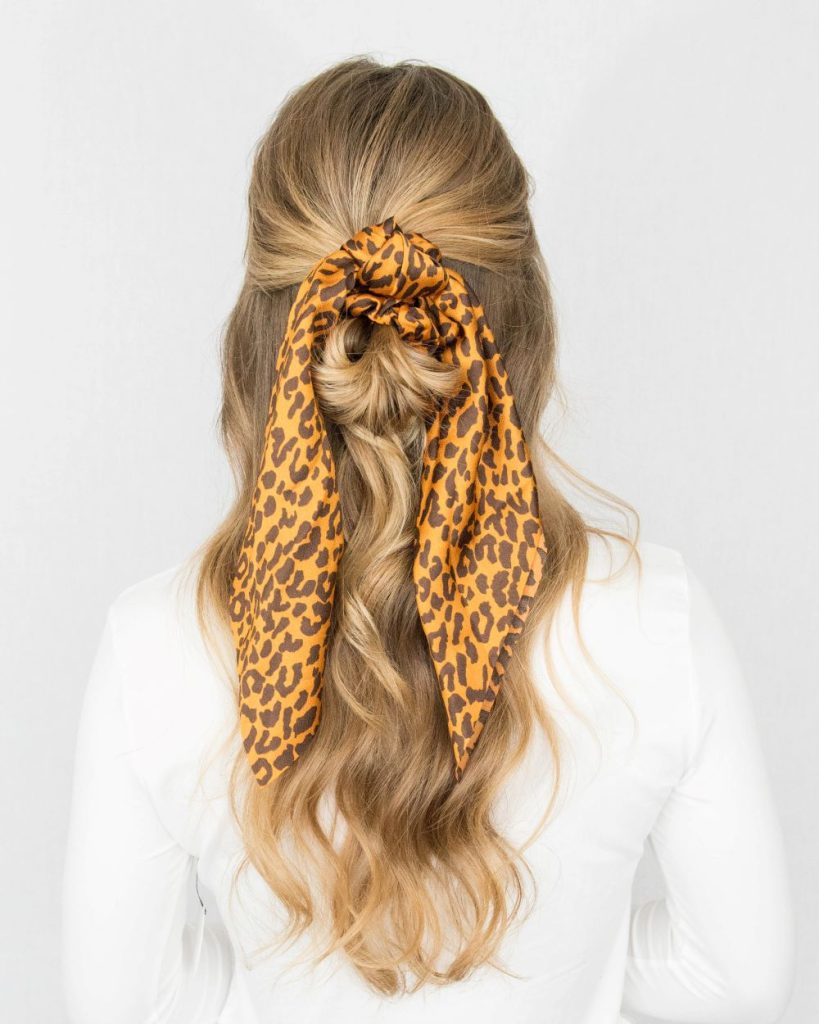 Bandeau Top Style
Before you start thinking about how to wear a silk scarf in the bandeau top style, let us give you an answer. Take your silk scarf and lay it down flat. Then, you need to fold it on the diagonal axis. Now, fold two of its corners down to the middle and then fold them in half. Thus, your bandeau top is ready! A bandeau top is a piece of modern clothing for women. It is usually sleeveless and strapless. It is made from stretchy fabric so that it does not slip down.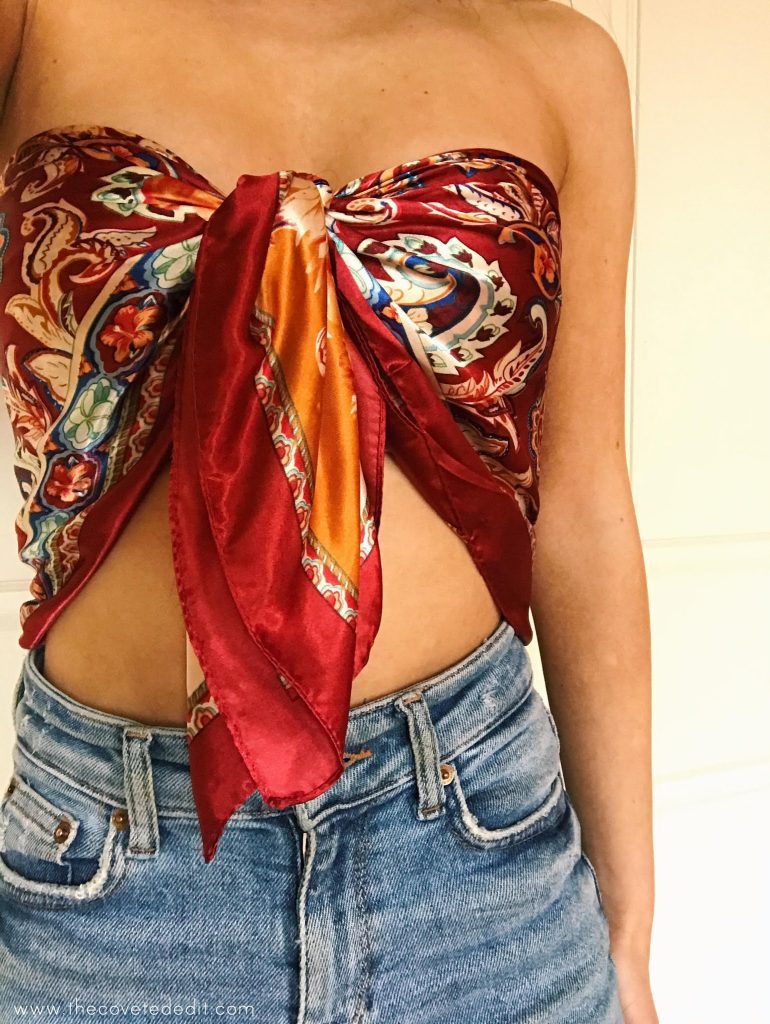 You can find your own interesting ways to wear a silk scarf depending on your comfort level and preference. A silk scarf does not have to be kept necessarily for special occasions. You can wear it on a regular basis whether you are going to a mall, a supermarket, a movie theater, a restaurant, or a park. You can even wear it on a date or romantic dinner. You can even add a silk scarf to your airport outfit to look stunning.
While wearing a silk scarf before going to a party, get-together, wedding, or any other event, you should take care of some points. For example, you should dry your nail polish before wearing a scarf otherwise, you might get nail polish stains on your clothes. Many women have a habit of giving final touch-ups to their look after applying nail polish.
Conclusion
Now that you have learned how to wear a silk scarf, it's time to add some silk scarves with the latest designs to your collection. You can shop for silk scarves in physical and online stores. Branded silk scarves are often expensive, so if you are on a budget, you can go for non-branded ones. Check the quality and texture of the scarf before buying it. In the case of online shopping, read the reviews of other customers, as it's not possible to check the quality and texture by touching the scarf.
Priya Bhagtani