What's the first thing that comes to your mind when you hear the term Indian spices? Is it something spicy and super tasty? Well, people all over the world appreciate Indian spices and love to eat Indian food. And how interesting would it be if we cooked it along with eggs? If you're already interested, it's time you start reading this blog to know some easy Indian egg recipes!
Below we have come up with some simple egg recipes that are super tasty and extremely easy to make! So, let's take a dive and find out what our top-picked Indian egg recipes are!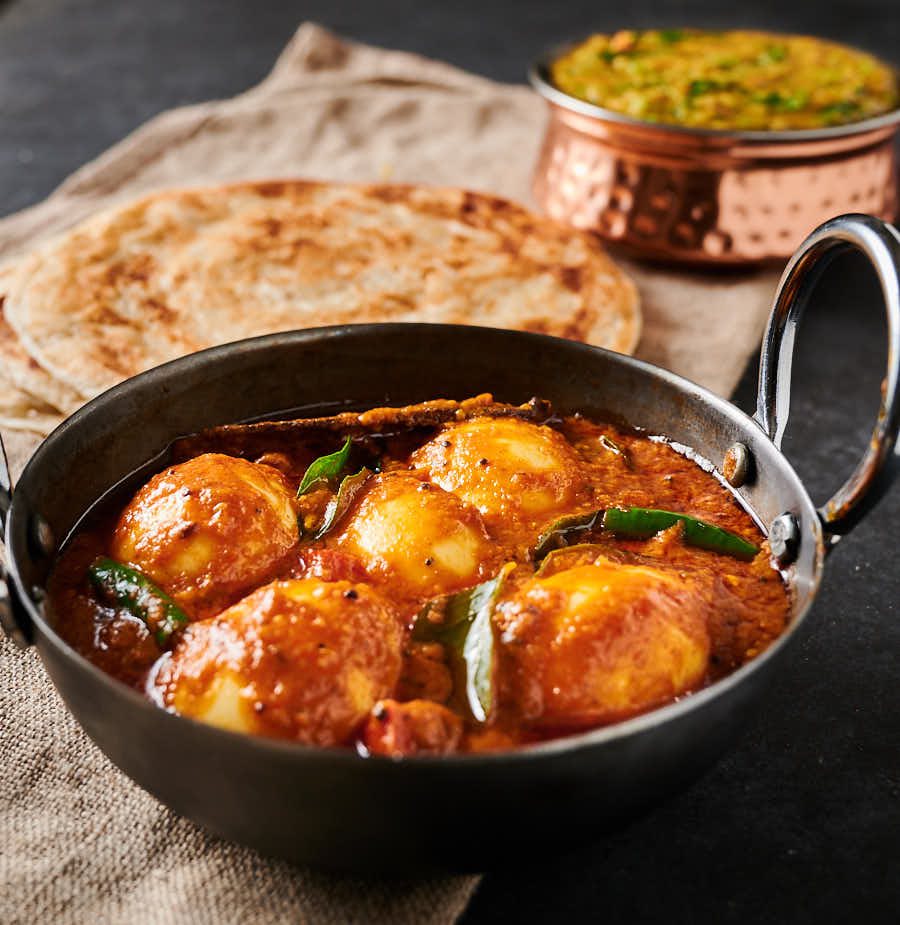 6 Indian Egg Recipes To Try Out!
Eggs are highly nutritious and are super tasty! But you have to know the right way to make them, and of course, there is no better way than trying it out in the Indian style.
Let's check how you need to make some super interesting Indian egg recipes for dinner, lunch, or breakfast. Here they are:
1.      Mangalorean-Style Egg Recipe
If you are looking for egg recipes South Indian style, then this is a recipe you can try out! With some chopped onions, tomatoes, coconut milk, and chilies, this recipe is sure to steal the show.
For the gravy, you can use carom seeds, cumin seeds, grated coconut, methi seeds, and oil! The recipe has a slight flavor of coconut milk which makes the gravy nice and smooth! Plus, at the same time, with the grated coconut, you are sure to love this egg recipe.
You can add either have this with rice or chapatis. Both ways, this egg recipe will taste delicious. To garnish the recipe, you can help with the super cute-looking coriander leaves. In total, this recipe is a bomber.
2.      Fried Whole-Egg Vindaloo
Another South Indian-style egg curry that you must try is this one. Vindaloo is a Goanese recipe that is mostly done with meat; in general, people use chicken or pork. However, I've personally tried this, and it has the power to salivate you any time you hear of it.
In this recipe, you would primarily need dried red chilies, coriander seeds, cumin seeds, ginger-garlic paste, tomatoes, garam masala, vinegar (ideally, white), sugar, and whole green chilies.
Make a paste with all the ingredients, boil the eggs beforehand, and shallow fry it. Once you are done with that, heat some oil and add all the ingredients. Remember to fry the masalas well before you add the eggs.
Finally, end the recipe with some garam masala and coriander leaves. Make sure you eat this with some coconut or plain rice. Ideally, this won't taste well with chapatis. Try this out, and don't miss out on letting me know how you like this recipe.
3.      Keema Egg Paratha
Looking out for some Indian street food egg recipes? Well, this one is our favorite choice! For this use, either chicken or mutton! If you think what keema is, let me tell you, keema is mince. So, fry the meat mince with spices, onions, and ginger-garlic paste. Then, you need to scrabble out the eggs well.
Mix them well and keep the stuffing ready. Finally, knead the dough. Either using all-purpose flour is best. The flavor of the stuffing will complement well. This is a super filling recipe and is great for lunchboxes. If you manage to knead the dough well, this is sure to remain soft until lunchtime.
4.      Omelet & Veggie Curry!
Well, if you think omelets are only for breakfast, then why not try out something new. There is hardly any Indian household that consumes eggs that haven't tried out this recipe! With loads of veggies, this curry turns out to be a super special one.
Generally, people eat this with rice. But if you think of having a portion of super nutritious food and avoiding carbs, this can be a great choice. Make the right choice of veggies, and you're good to go!
5.      Akoori
If you are now looking out for egg recipes for breakfast, this one can be an ideal choice. Generally, people have scrambled eggs for breakfast. This is more or less the same thing, but this one has a slight twist to it!
And the twist is the Indian style. In Indian households, they usually don't add milk or make the scramble plain. Instead, they tend to add some tomatoes, chilies, coriander, onions, cumin seeds, and garam masala. If you are conscious about your health and want to make it even more nutritious, you might add a little finely chopped veggies like spinach, grated carrots, beans, and peas. It turns out to be extremely filling and something that most people will love having.
In India, this recipe is usually consumed with chapatis, but you can have it plain as well. With a glass of juice, you are sure to remain full for the entire day.
6.      Egg Pulao
A quick, filling, and nutritious recipe that you can try out on a day you don't feel like cooking is this one. With cooked rice, scrambled eggs, pepper, onions, and green chilies, you can make a simple recipe at home.
If you want, you can add the readymade pulao recipes that you get. But if you don't get any, you can always add plain garam masala. Pair this up with some raita, and you're good to go!
Final Thoughts
So, now don't you have enough recipes to try out for breakfast, dinner, and lunch? Go ahead and try these out. We assure you the recipes are superbly delicious and extremely nutritious as well. You can always pair them with rice or chapatis as that's exactly the way Indians eat them. However, if you wish to have it plain, you can do that as well! 
Vikram Deo