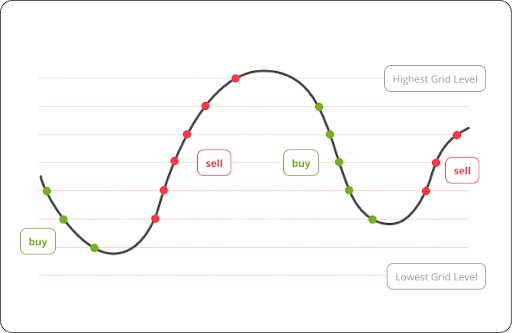 KuCoin trading bot is a tool that takes repetitive trading tasks out of the hands of humans. The automated software has the ability to meticulously analyze market dynamics and execute trades based on pre-set parameters. This allows users to focus on other aspects of their lives without having to sit at their desk 24/7. It also removes the emotional component of trading and prevents traders from making impulsive decisions that may result in financial losses.
The kucoin trading bot is free to use and offers 24/7 customer support. The company's dedicated help center within the trading bot section contains various articles and FAQs to answer common queries, while users can request additional assistance through a ticket system. KuCoin also charges no monthly fees, so users only need to cover the regular trading costs associated with the platform. Moreover, users can deploy multiple bots at a time, allowing them to diversify their portfolio and minimize risk by allocating funds across different strategies.
In the first step, a user must select a cryptocurrency pair to run their bot on. After selecting a pair, the user can click "CREATE". They will then be asked to provide a trading strategy. The options available include "Auto Grid" and "Customize". In Auto mode, the bot will automatically set a price range, while in Customize mode the user can determine the intervals and number of levels needed for the bot to buy and sell cryptocurrencies.
Once the user has selected a trading strategy, they need to configure the bot's parameters. The bot's performance will be impacted by a variety of factors, including user input and market changes. However, a well-optimized trading bot can maximize profits and reduce risks by adjusting its take profit and stop loss thresholds.
The KuCoin trading bot also supports a variety of other automation tools, including dollar-cost averaging and smart rebalancing. These strategies can help investors optimize their portfolio allocation and minimize risks by automatically buying or selling cryptocurrencies to bring the portfolio in line with the target allocation.
The KuCoin trading bot is a useful tool for retail traders looking to automate their investment activities. This is especially helpful for those who don't have the time or knowledge to monitor market movements manually. Using the KuCoin trading bot can help increase your investment returns and save you valuable time. But it's important to remember that bots are not magical money-making machines, and you should always keep your risks in mind. You should only use a trading bot on your own account and only invest a small percentage of your total assets. Otherwise, you could lose a significant amount of money.
sweety
Hi, I am an Author who believes in making the life of their readers interesting with his writing. Writing was always my first interest. Ever since I was a teenager, I was already into writing poems and stories. Today, I have gained a great experience in my work. Check out my work and share your views.