One of the most popular toys in the world is the Nerf gun. Nerf guns have been around for decades, with the first debuting in 1980. This fantastic Nerf gun was developed back in Minnesota in 1969 by Reyn Guyer, a game inventor.
There are currently basic Nerf guns and highly customized Nerf blasters; the latter is nowadays becoming more and more popular, which increases their value as collectables due to their rarity. Their functionality and the range of play options they provide are two additional factors that increase their cost.
Here is a list of the top 5 most expensive Nerf gun available around the world.
Nerf N-Strike MEGA Mastodon Blaster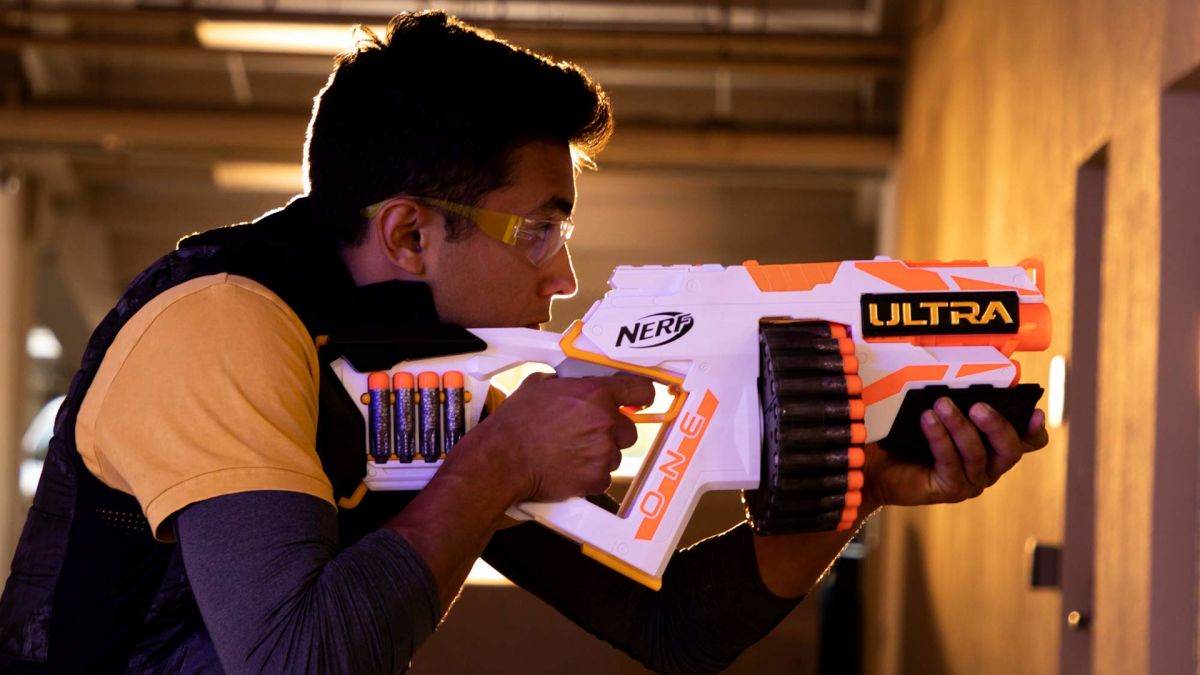 The N-Strike MEGA Mastodon Blaster was made available by Nerf in 2016 as part of the N-Strike Mega line. It runs on six batteries, which are required. 
The box for this Nerf gun contains 24 Mega Darts in total, a shoulder strap, and instructions. It is an automatic flywheel blaster. It can hold up to 24 darts at once and has a sizable dart drum. 
Three tactical rails and two strap points are present on it. Both are in front of the rail and one is at the end of the blaster. Actually, this is the first time a motor has ever been used in a Nerf Mega blaster. You can outnumber your rivals and outrange them by up to 100 feet thanks to its imposing size.
Nerf Rayven CS-18
The Light It Up edition series of Nerf Rayven CS-18 was introduced in 2012. The four batteries needed to power this awesome weapon. There is a Firefly Tech clip included in the packaging. 
The flywheel system that powers it is triggered by acceleration. Since the trigger needs to be pulled in order for each dart to be fired from this blaster, it is semi-automatic. 
In addition to having two tactical rails, this Nerf gun has a semi-automatic clip system. On the top and bottom of the stock, there are two holes for the attachment of a sling.
If you compare this Nerf gun with some of the other guns on the list, the Rayven has a quiet motor, making it quieter overall. If you want something that makes less noise, this will be a great option for you if you are looking for the most expensive Nerf gun to buy.
It's simple to find this Nerf gun anywhere in the world. Depending on where you purchase it, prices may change.
Original Nerf Crossbow (Purple Version)
This fantastic Nerf crossbow debuted in 1995 under the Kenner brand. The Original Nerf Crossbow (Purple Version) is an inexpensive toy, costing only Rs. 16,700. The first Nerf Crossbow was subsequently purchased by Hasbro. 
The best feature of this gun is that it can be customized, which has won the admiration of Nerf enthusiasts all over the world. The price of this Nerf gun has increased over time by a factor of ten, so if you already have one, be aware of that.
Nerf Dude Perfect Signature Bow
One of the priciest Nerf weapons in the entire world is the Nerf Dude Perfect Signature Bow. It is 42 inches (122 centimetres) long, has two whistling arrows, and has a maximum range of 105 feet (32 meters) when firing arrows. It's the popular one as the most expensive Nerf gun, also very popular with Nerf enthusiasts. 
Along with the Nerf Sports Dude Perfect Signature Bow, two whistling arrows are also included. By being knocked, having the string pulled back, and then being released, an arrow can whistle as it soars through the air.
This gun has become well-known since it was featured in a video by the popular YouTube channel Dude Perfect. 
Dude Perfect pulled off a stunt in which he shot for a distance of up to 105 feet using this massive bow, which is 42 inches long.
N-Strike Longstrike CS-6
The N-Strike Longstrike CS-6 is one of the most difficult-to-find Nerf gun models if you're looking for one that is brand new and in the box. It is a sniper rifle dart blaster, as its name suggests, and when it was first released in 2010 it was the longest one on the market. There was also a flip-up sight for better accuracy and a barrel extension for longer ranges. The range is 35 feet.
This blaster didn't work out the way it was intended because of its "bolt-action" mechanism, which was difficult to implement and prone to errors that annoyed many players. Due to its short time on the market, as a result, it became one of the most valuable in the eyes of collectors, raising its value to a respectable Rs.47,675 at the present.
Summary
There are standard Nerf guns and heavily customized Nerf blasters. The latter are becoming more and more popular these days, and their rarity increases their value as collectibles. They become more expensive due to two additional factors: their functionality and the play options they open.
The majority of blasters from the Nerf brand and comparable brands come with a set of the ammunition they fire; additional ammunition can be purchased separately in larger quantities or online. They can also be customized by using specialized attachments, which are available for purchase separately or are already included with some blasters. 
Numerous non-Nerf blasters are also cross-compatible with magazines and darts from the Nerf brand in order to benefit from the ecosystem that the well-known brand has already established.
Most blasters from the Nerf brand and similar brands come with a starter supply of the ammunition they fire; additional ammunition can be purchased separately in larger quantities or online. Specialized attachments, some of which are included with some blasters or are available separately, can also be used to customize them. 
̧In order to take advantage of the ecosystem that the name-brand has already created, many non-Nerf blasters are also backwards compatible with Nerf brand darts and magazines.
Vikram Deo