Do you want to buy a wonderful backpack but are not sure how to choose one? Are you looking for some useful tips on how to select the most suitable backpacks for men? If yes, then you are at the right place! We have created this blog post to help you.
Excitement comes rushing to the minds of many people when they read or hear the word 'backpack' because backpacks are used to travel. Come on, who does not like taking trips? A large number of people love to travel to satisfy their wanderlust, gain new experiences, meet interesting people, and expand their knowledge horizons. Travelling teaches a lot of valuable lessons to people.
Though people travel less frequently than others, a backpack is a travel gear that everyone needs. Whether you are going to another city, state, country, or continent, taking a backpack is a must. Travel gear like suitcases and trolley bags are used to carry clothes and other items.
But backpacks are used to carry important items that you need handy during the journey, for example, electronic accessories, napkins, tissue papers, identity cards, snacks, medicines, sanitizer, a water bottle, and cash. You can also keep precious items in your backpack to ensure their safety. Moreover, trolley bags and suitcases become check-in luggage when you travel via air, whereas you can keep a backpack with you while on a flight.
Backpacks for men are available in various sizes and types to meet the specific needs regarding different types of travel endeavors, for example, air travel, road trips, and backpacking. Well, not just traveling, but backpacks are used for other purposes as well. Some men prefer to carry a backpack to their workplaces and schools. A few men even carry it when they go shopping. Backpacks become of utmost importance when you go for participating in adventurous activities like biking, trekking, skiing, hiking, and surfing.
Use these Tips to Select Right Backpacks for Men
A backpack is not just baggage or an accessory but a style statement. A lot of men like wearing a backpack because it makes them look cool. Backpacks can be both functional and stylish. You can come across a large variety of backpacks in both online and offline stores. You need to choose the one that suits your requirements, preferences, taste, and budget.
Following is the list of factors that you should consider while purchasing a backpack. These factors serve as tips that can help you to choose the right backpack.
Size of the Backpack
As mentioned earlier in this blog post, backpacks for men come in several sizes. The size of a backpack determines its capacity. You should choose the size according to the amount of luggage you want to carry.
A backpack that does not have sufficient capacity to hold your luggage is not useful for you. The amount of luggage you want to carry depends on the length of your trip, the climatic conditions of the destination, and other parameters. You should check the length, width, and height of the backpack before buying it. You can also get an idea of the capacity of the backpack through its volume.
Shape and Type of the Backpack
Along with the size of the backpack, the shape and the type of the backpack also matter a lot. Now, you might wonder, "All backpacks have the same shape. What is so unique about the shape of a backpack?". Well, let us tell you that there are subtle differences in the shape of every backpack.
You can find it by having a look at the backpack properly. Backpacks can be categorized into different types, such as laptop backpacks, biking backpacks, carry-on backpacks, duffel backpacks, hydration backpacks, trekking backpacks, ski backpacks, and more.
The categorization of backpacks for men can depend on the use, features, design, and special characteristics of backpacks. While a hydration backpack contains a hydration system to make drinking water convenient, a carry-on backpack is ideal for carrying inside the cabin on a flight.
You should purchase a backpack whose type and shape are suitable for your needs. You need to take into account elements like your body shape, height, and torso length to make a decision. The shape, type, and design of the backpack play an important role in equitable weight distribution. The equal distribution of the weight of the luggage is an important factor for many people, especially those who are suffering from health issues.
The Fabric of the Backpack
Backpacks are made from a wide range of materials like kodra nylon, rip-stop nylon, ballistic nylon, pack-cloth nylon, cotton, polyester, Cordura, PVC (polyvinyl chloride), genuine leather, vegan leather, neoprene, canvas, denim, and TPU (thermoplastic polyurethane).
Each of these materials or fabric types has its pros and cons. You should choose the fabric depending on your individual needs. If ease of cleanliness is your concern, you should choose a backpack made from cotton. If you like the look and feel of leather but have turned vegan, you can buy a backpack made from vegan leather. If you love denim, you should go for a denim backpack. If you are looking for a backpack that is highly durable, you should opt for a neoprene backpack.
The Frame of the Backpack
Backpacks for men can be divided into three main types on the basis of the frame. They are internal frame backpacks, external frame backpacks, and frameless backpacks. A backpack can have either an internal or an external frame. A backpack that does not have a frame at all is known as a frameless backpack.
Internal frame backpacks are those backpacks whose frame or structure is sewn inside of the back panel. They fit flush against your back, and so, they don't become an obstacle in your arm movement. Backpacks with an internal frame offer more stability when you traverse rugged or uneven terrain. They have a rigid structure and a sleek design. They can load more weight between the small of the back and between the shoulders. Backpacks with an internal frame are usually lightweight.
External frame backpacks are those backpacks whose frame or structure is clearly visible from the outside. They are ideal when you traverse a smooth or well-maintained terrain. Backpacks with an external frame are usually heavy, but you might be able to find some lightweight options in the market.
Most internal frame backpacks have one huge compartment and a few outer pockets. You can access the main compartment from either the top or the front panel. On the other hand, external frame backpacks have several compartments. If you remember, we discussed the point regarding equitable weight distribution earlier in this blog post. Weight distribution is better in the case of external frame backpacks as compared to internal frame backpacks.
An external frame backpack takes the weight off the shoulders and distributes most of it to the hips. Moreover, external frame backpacks can carry more luggage than internal frame backpacks. Most of the pockets are on the exterior, and so, you can put your belongings in those pockets.
Backpacks for men also come in a frameless design. A frameless backpack does not have a rigid frame or structure. It has a minimalist design with fewer compartments, fewer zippers, and fewer straps. Many frameless backpacks have a single large compartment and a mesh exterior pocket. You can fold or bend a frameless backpack when it's empty.
Top-Opening VS Front-Opening
The number, location, and design of the compartment are important considerations that you cannot ignore while buying a men's backpack. The words 'top-opening' and 'front-opening' refer to the way you can access the main or major compartment of your backpack. In other words, they refer to the way the backpack opens.
In the case of a top-opening backpack, you can access the main compartment from the top. The majority of the backpacks are top-opening. They are easy to carry and handle since they are lightweight. They provide a better fit for smaller people, as they are available in various width sizes. As a top-opening backpack is lightweight, you can use it for hiking and long-distance hiking. It will feel lighter on your back once you wear it. A top-opening backpack is also known as a top-loading backpack.
Front-opening backpacks for men allow you to access the main compartment from the side. They are also known as front-loading backpacks. Their design makes them similar to a suitcase because they open from the front like a suitcase. Hence, they are easier to pack and unpack. They are sturdier and more secure than top-loading backpacks. They are a little shorter and a little wider than the top-loading backpacks.
When it comes to keeping your belongings in an organized way and finding the items you need quickly, a front-opening backpack is a better option compared to a top-loading backpack. You can organize your belongings in a front-opening backpack just like you would organize in a suitcase. You can find the item you need quickly. In order to find an item in a top-loading backpack, you have to face a lot of difficulties.
Straps, Attachment Points, and Other Features
You should pay attention to the features of a backpack before buying it. Some of the features or characteristics of a backpack are straps, suspension system, padding, attachment points, ventilation, rain cover, hydration compatibility, resistance to water, durability, detachable laptop sleeve, and wheels.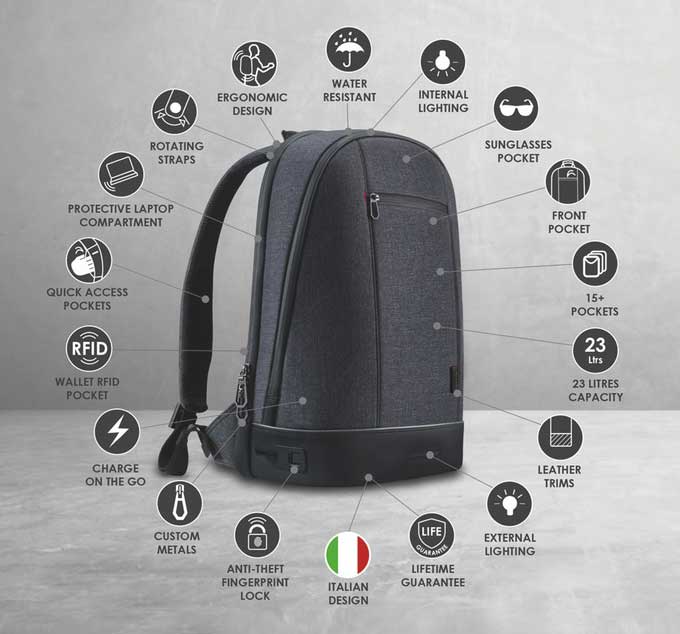 A suspension system is the load-supporting system of a backpack. It consists of various straps that are a part of the backpack, namely, shoulder straps, stabilizer straps, and load-bearing straps. A backpack can have either a fixed or an adjustable suspension system.
Attachment points are used to attach gear to the outside of the backpack. Daisy chains, shovel pockets, and ice-axe loops are some examples of attachment points. The shoulder straps and back panels of some backpacks for men are padded. The padding makes your backpack more comfortable for you, especially when you have to carry it for an extended duration of time. The items kept inside your backpack will not poke into you.
Many backpacks these days have a ventilation system that comprises a mesh. The mesh creates permanent air space between the backpack and your back. While a hydration backpack is a separate type of backpack in itself, hydration compatibility is also considered to be a feature.
Backpacks with features like water resistance and rain cover are ideal for people who are traveling in a location that gets a lot of rain. As the name suggests, a backpack with the feature 'detachable laptop sleeve' refers to a backpack that contains a detachable sleeve used to keep a laptop.
Needless to say, whenever you buy a backpack, go for one that is manufactured by a reputable company. You should also look for the reviews of the backpacks you have shortlisted. You should keep in mind simple points like the number of compartments or pockets, the number and type of items in your luggage, and your budget.
Conclusion
Buying Backpacks for men is an investment in making your short and long trips smooth, hassle-free, comfortable, and enjoyable. You should conduct due research to find a backpack that fulfills your requirements within your budget.
Priya Bhagtani